Bipasha Basu opens about Devi's open heart surgery; says Karan was not ready
Devi was welcomed by Bipasha Basu and Karan Singh Grover on November 12, 2022.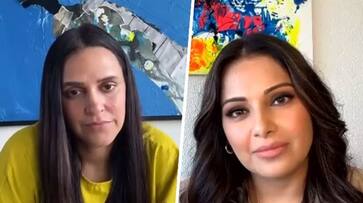 In November 2022, Bipasha Basu and Karan Singh Grover had a daughter named Devi. Three months after her birth, the actress recently disclosed that their baby had heart surgery. Devi's heart had two holes when she was born. Devi was born with a ventricular septal defect (VSD), the actress revealed.
Also Read: From Kartik Aaryan-Shahid Kapoor: Actors who're loved despite failures
She continued by revealing more about the same, saying, "We didn't even know what a VSD is. A ventricular septal defect is present. We experienced a tumultuous time. We didn't talk about this with our family because we were both a little bit disoriented. Me and Karan wanted to rejoice, but we were both feeling a little numb. We've had an extremely rough first five months. Devi, though, has excelled from the start. We were instructed to perform a scan once a month to determine whether the wound is naturally healing. However, because to the size of the hole she had, we were informed that it was unlikely she would survive without undergoing surgery. And it's advisable to have the operation.
You feel so sad, so burdened and so conflicted, because how can you put a child in open heart surgery? Something natural will happen, and people like us who are believers, we try to manifest it with our thoughts that it will start healing on itself. In the first month, it didn't happen, in the second month, didn't happen. And I remember the third month, when we went for the scan, I pretty much did all the research, met surgeons, had been to hospitals, spoken to doctors, and I was kind of ready, Karan was not ready. I knew that she had to be okay and I knew that she will be okay. And she is okay now. But the tough decision was to get your child operated at the right place and at the right time." she added. 
Also Read: Chandramukhi 2: Kangana Ranaut looks like a royal queen in her most-awaited film
Last Updated Aug 6, 2023, 11:12 AM IST