Bigg Boss OTT 2: Abhishek Malhan and Bebika Dhurve follow each other on social media in spite of tiffs
Bebika and Abhishek clashed often on the show. Post-exit, their unexpected social media connection has intrigued fans, shedding light on evolving dynamics beyond the reality TV setting. - By Mahasweta Sarkar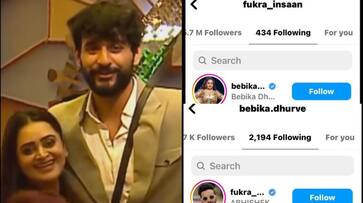 Bebika Dhurve has become the recipient of immense love and support, particularly from dedicated viewers of Bigg Boss OTT 2. Her distinct style and personality have earned her a loyal following, evident in their constant rooting for her throughout the show. Fans consistently offered their unwavering support on various social media platforms, showcasing a strong bond. Her strong and unique persona propelled her to the top 4 in the finale, a testament to her presence throughout the season. One of her notable traits was her willingness to stand up for herself during disputes, demonstrating clever handling of challenging situations.
She frequently clashed with the show's runner-up, Abhishek Malhan (Fukra Insaan). An interesting turn of events has sparked intrigue among netizens – Bebika and Abhishek have begun following each other on social media after their exit from the show. This unexpected development has garnered attention and highlights the evolving dynamics between the contestants beyond the confines of the reality TV show.
ALSO READ: Kareena Kapoor wishes Saif Ali Khan on his 53rd birthday, calls him 'Ultimate Lover'
Undoubtedly, Abhishek and Bebika engaged in multiple disagreements within the Bigg Boss house, often passionately debating various points. Each time they crossed paths, they passionately articulated their perspectives, occasionally leading to heated arguments stemming from differences in opinions. Despite these confrontations, an interesting dynamic emerged.
Remarkably, Abhishek and Bebika have managed to forge a robust bond beyond the confines of the show. Their interactions, although occasionally contentious, have translated into a newfound connection outside the Bigg Boss house. This was evident as they initiated the act of following each other on social media, an action symbolizing their mutual interest in nurturing and strengthening their post-show relationship.
In a significant episode, the bond between Abhishek and Bebika, marked by obstacles and endearing quarrels, found resolution through Abhishek's heartfelt words. He openly declared Bebika as his favorite contestant of the season, expressing his admiration and desire to continue their friendship. This affirmation signifies their intention to deepen their connection and nurture a lasting bond. This heartening development brings joy to AbhiKa fans who eagerly anticipated their relationship evolving post-season. Enthusiasts can now anticipate the possibility of seeing them together, as this friendship takes promising steps forward.
ALSO READ: Bigg Boss OTT 2: Manisha Rani breaks silence on 'playful' flirting with Elvish Yadav; Know details
Last Updated Aug 16, 2023, 3:41 PM IST