Bigg Boss 17: Abhishek Kumar claims he is the reason behind Khanzaadi's existence in the show
During a Diwali task given by Bigg Boss, Abhishek Kumar made various claims against Khanzaadi and called her his sister days after flirting with her.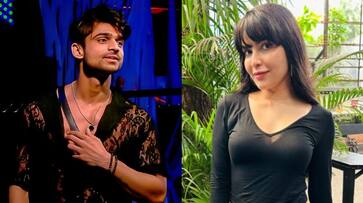 Yesterday's episode of Bigg Boss 17 was a combination of drama, action, and passion. The episode also saw paparazzi enter the residence for the first time to cover the Diwali red carpet event. There were a lot of explosions on the show during a task when contestants got to unleash their rage on other contestants without naming them. During the challenge, Abhishek Kumar surprised everyone by making multiple nasty comments about Khanzaadi and her character, days after flirting with her.
Abhishek's accusations of Khanzaadi
Abhishek made various claims against Khanzaadi, including calling her behan (sister) and accusing her of manipulating him for the game.
"She initially wanted to show everyone that she is a lone player and doesn't follow anyone. But she always had everyone's support. She only sleeps at home, makes excuses for her injury, and always claims she wants to quit the show. Why doesn't she leave the house if she wants to go? She manipulated others and faked her feelings for me during a task just to win it."
He continued saying, "Arre Behan agar tereko hamper chahiye, I will get 20 hampers for you but never play with anyone's feelings. Whenever we get near or are romantically involved, she quickly glances at the camera to ensure that the moment is captured. I'm the reason she exists on the show."
Housemates reaction
While Abhishek becomes very hostile with his words, other housemates such as Mannara Chopra, Isha Malviya, and Samarth Jurel rejoice and celebrate as Abhishek attacks Khanzaadi during the task.
Later, Khanzaadi is seen crying in front of Vicky Jain and Ankita Lokhande as a result of Abhishek's comments. Vicky warns her not to reveal her secrets or traumas to anyone on the show, since they would be used against her during challenges.
Last Updated Nov 17, 2023, 11:35 AM IST