Bengaluru: Youtuber exposes alleged prostitution at Majestic underpass, see what happens next
YouTuber Vikas Gowda exposed a prostitution operation at Bengaluru's Majestic Underpass, sparking controversy and concerns about safety. His video documented harassment from individuals involved in the illicit trade, highlighting persistent issues despite police efforts. The situation underlines safety concerns for residents and visitors in the bustling city. Vikas Gowda calls for immediate action to address the problem.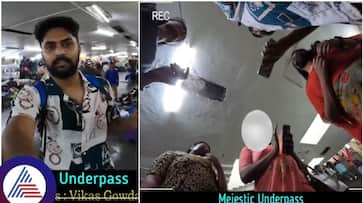 A YouTuber named Vikas Gowda has unveiled a revelation about a prostitution operation in the heart of Bengaluru, specifically at the Majestic Underpass, one of the city's busiest areas. His video has stirred up outrage and controversy, shedding light on the harassment he faced when trying to document the illicit activities happening in that location.
Local reports and travellers have long hinted at the presence of prostitution at the Majestic Underpass, a spot frequently visited by villagers and commuters travelling through the heart of Bengaluru. Despite periodic media coverage leading to police interventions, the issue continues to persist, with sex workers often soliciting passersby, including men, women, and sexual minorities.

Bengaluru mishap: Collision claims lives of BSF cook, youtuber in Yelahanka
Vikas Gowda's video provides a glimpse of the problem as he ventured into the Majestic Underpass and began recording a selfie video. However, his filming drew the attention of a woman engaged in prostitution, leading to a confrontation. As tensions escalated, several individuals, allegedly linked to the sex trade, approached Vikas and demanded that he stop recording. Under duress, he was ultimately forced to delete all the videos from his mobile device.
The situation became even more troubling when one of the women involved in prostitution attempted to entice Vikas into the illicit trade. This revelation has raised serious concerns about the safety of ordinary citizens in the area.
It's worth noting that the state's police department takes swift and rigorous action against prostitution, often resulting in arrests and crackdowns on sex work. Measures have been taken to address the involvement of sexual minorities in these activities. However, the persistence of prostitution in the heart of Bengaluru, particularly under the Majestic Underpass, which connects the BMTC and KSRTC bus stations to the railway station, is a cause for alarm.

Youtuber Fidias demonstrates 'How to get inside Bengaluru metro for free', gets criticised by his fans
This incident has highlighted the audacity of those engaged in prostitution who openly approach and harass individuals, including college students and other passersby, in an attempt to lure them into brothels. The continued presence of such activities in Bengaluru, a city recognized for its international growth and development, raises concerns about the safety and security of residents and visitors. In response to these revelations, Vikas Gowda, the YouTube vlogger, has called for immediate action to ensure the safety of people using the Majestic Underpass.
Last Updated Nov 2, 2023, 12:01 PM IST