Barroz: Mohanlal's directorial debut breaks boundaries; ready for multilingual release
Mohanlal's directorial debut, "Barroz," a 3D film set for premiere on December 21st, boasts a multilingual appeal with dubbing in 16 languages, breaking language barriers. The story revolves around a demon protecting riches, portrayed by Mohanlal, with captivating visuals, animation, and a global production effort--by Amrita Ghosh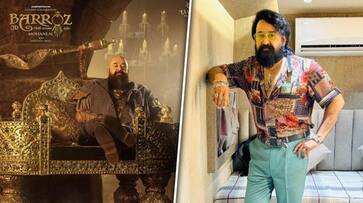 'Barroz' is the directorial debut of Mohanlal. This 3D film is well set for its premiere on 21st December. The movie is being dubbed in 16 languages which enables it to deconstruct the language barriers that block the worldwide audience from enjoying the film. The multilingual appeal of the movie can thus, be confirmed. 60 countries are in the list for its release. 'Barroz' storyline revolves around a demon of the same name who protects the riches of D Gama by being his key keeper. The story goes on with the protagonist's search for an heir who is well-suitable and worthy of the position. 
As it is no surprise, Mohanlal itself is playing the role of the demon and his looks in costume was very spellbinding. The setting is medieval Portugal. An animated character is also present to maintain the comical effect throughout. The makers of the animation and background score have put their hearts and soul into the project to create the perfect mix of enthusiasm and captivation for the audience. 
ALSO READ: Nazriya Nazim-Fahadh Faasil's 9th wedding anniversary: Actress shares a cute photo with their pet dog
The production design is by Santhosh Raman. Santhosh Shivan has given undivided attention to the visual detailing due to which 'Barroz' will be a perfect theatre experience. T. K. Rajiv has also given his share of work for the directorial department thereby helping it to reach perfection.  Mark Kilian is behind the background score being crafted and he has been known for his works in 'Eye in the Sky' and 'The Traitor'. As mentioned, the film setting is based in Portugal therefore adequate Portuguese songs are also blended in the film by Garerio. Lidiyan Nadaswaram's musical contribution also deserves mention. The global production is executed by Aashirvaad Cinemas headed by Ashish Joe Anthony with the helpful support of Antony Perumbavoor.
Also Read: Priyanka Chopra's husband Nick Jonas loves Indian cuisine; here's his favourite dishes
Last Updated Aug 21, 2023, 3:28 PM IST