Aquaman And The Lost Kingdom Trailer shows Arthur Curry's family dynamics, deadly face-off between leads
In the latest trailer of DC's Aquaman and the Lost Kingdom, Black Manta is relentlessly pursuing the ancestral legacy of Arthur Curry. The film is set to hit theatres in December 2023.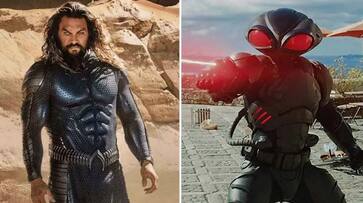 Warner Bros. is getting ready for the release of Aquaman And The Lost Kingdom. The latest superhero film is only a few weeks away from being released in cinemas. A new teaser has been released ahead of the sequel's December 22, 2023 release date, providing a deeper glimpse into Arthur Curry's journey and his kid.
The trailer focuses on Jason Momoa's position as a parent to a youngster with the unusual ability to connect with sea creatures. The sequel, directed by James Wan, teases the exploration of Curry's family dynamics while focusing on Aquaman's adversary, Black Manta, played by Yahya Abdul-Mateen II.
Also Read: Emmy Awards 2023: Vir Das to Martin Freeman, full winners list here
The new video immerses viewers in Arthur's universe as he shows his kid the beauties of the sea. It also reveals more about Manta's revenge expedition against the King of Atlantis. The clip features intense fight moments between Aquaman and Black Manta. This action-packed trailer promises a high-octane showdown, bringing back the spirit of the first Aquaman film. Meanwhile, the film will signal the conclusion of the DCEU, paving the way for future projects from Peter Safran and James Gunn's DC Universe.
The official synopsis read, "Having failed to defeat Aquaman the first time, Black Manta, still driven by the need to avenge his father's death, will stop at nothing to take Aquaman down once and for all. This time Black Manta is more formidable than ever before, wielding the power of the mythic Black Trident, which unleashes an ancient and malevolent force. To defeat him, Aquaman will turn to his imprisoned brother Orm, the former King of Atlantis, to forge an unlikely alliance. Together, they must set aside their differences in order to protect their kingdom and save Aquaman's family, and the world, from irreversible destruction."
Jason Momoa's reappearance as Arthur Curry/Aquaman adds a fresh layer to his character, while Patrick Wilson reprises his role as Arthur's half-brother, Orm. Amber Heard reprises her role as Mera, Queen of Atlantis. Yahya Abdul-Mateen II portrays Black Manta, who returns to revenge his father's murder by attacking Aquaman, his family, and Atlantis. Nicole Kidman returns as Atlanna, a harsh leader. Dolph Lundgren also returns as King Nereus, while Randall Park reprises his role as Dr Stephen Shin.
Also Read: Bigg Boss 17 SHOCKING update: Navid Sole gets evicted; housemates break down (Watch)
Amber Heard's appearance was modest in the original teaser and she was removed from the current trailer, despite many petitions calling for her removal from Aquaman 2 owing to her court dispute with Johnny Depp. In an interview with Entertainment Weekly in September, director James Wan said that Heard's character will play a smaller role in the sequel than in the original. The filmmaker added that the choice was not taken because of her legal concerns, but because he wanted to depict the bromance between Orm and Aquaman in the sequel.
Aquaman And The Lost Kingdom, starring Jason Momoa, is set to be released on December 22, 2023.
Last Updated Nov 21, 2023, 12:58 PM IST