Anushka Sharma's viral video : Pregnacy speculation grows as she gestures Papparazi to avoid taking pictures
Anushka Sharma signals paparazzi, sparking speculation of a second child with Virat Kohli. Sources hint at an impending announcement, while the actress remains low-profile. Get the latest scoop.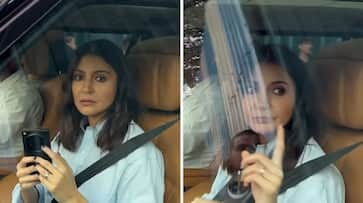 Recently, there have been circulating rumors suggesting that Anushka Sharma may be expecting her second child with Virat Kohli. These reports indicate that the actress has not officially responded to these speculations yet. Amidst these pregnancy rumors, a video capturing one of Anushka's recent public appearances has surfaced online. In this video, Anushka can be seen wearing loose-fitting clothing while seated in the passenger seat of her car. It was evident that she was not keen on being photographed, as she signaled the paparazzi to refrain from taking her pictures and swiftly departed from the scene.
Adding fuel to the speculations, a source revealed to Hindustan Times over the weekend that Anushka Sharma is indeed expecting her second child with Virat Kohli. The source stated "Anushka is expecting her second baby. Like the last time, they will formally share the news with the world at a later stage."
The source also explained Anushka's recent absence from public events, attributing it to a deliberate effort to avoid undue attention and speculation surrounding her pregnancy.
The rumors surrounding Anushka's second pregnancy started to gain traction, especially after she posted a picture celebrating Ganesh Chaturthi. Additionally, another source mentioned that Anushka and Virat were recently spotted by paparazzi outside a maternity clinic in Mumbai. However, they kindly requested that their photographs not be published, giving a strong indication that an official announcement might be imminent.
It's worth noting that Anushka Sharma and Virat Kohli tied the knot in 2017 and welcomed their first child, Vamika, in January 2021. In terms of her professional endeavors, Anushka is set to appear in the upcoming film "Chakda Xpress," a biographical portrayal of former Indian cricketer Jhulan Goswami.
ALSO READ: The Vaccine War's filmmaker Vivek Agnihotri on Shah Rukh Khan's Jawan and Pathaan, says 'I have a problem....'
Last Updated Oct 2, 2023, 9:58 AM IST