Anupamaa update: Rupali Ganguly's show's new twist; Anuj turns saviour for Baa-Bapuji
Pakhi criticises her mother and names her naukrani in the forthcoming Anupamaa episode. Anuj, on the other hand, assists Baa and Bapuji.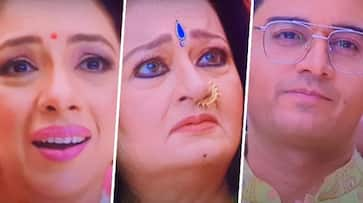 In the most recent Anupamaa episode, Barkha and Malti Devi discuss Anupamaa's budding friendship with the Shah family. Anuj overhears the chat and advises them to keep inside their boundaries. He also makes Malti Devi realise her faults in the past. Choti Anu appears and informs Anuj that she has a high fever and calls her mother Anupamaa. 
Meanwhile, Anu prepares meals for Baa and Bapuji in the Shah residence. Anuj calls to notify her about Choti Anu's condition. Anuj begins to fear and is concerned about his daughter. Bapuji notices Anu's condition and invites her to accompany him to the Kapadia residence since Choti requires her assistance.
Also Read: Watch: Suki Waterhouse announces first pregnancy with Robert Pattinson
Malti Devi uses Choti Anu to provoke Anuj against Anupamaa. Anu appears unexpectedly to the Kapadia residence and takes care of her daughter. She is also concerned about Baa and Bapuji. Adhik informs Anupamaa that Pakhi is welcome to stay at the Shah residence and care for them. Pakhi, on the other hand, loses her cool and refuses to go. She claims that she is not like her maid mother, Anupamaa. 
Dimpy chastises Pakhi for listening to music and neglecting her grandparents. Pakhi is told to leave by Bapuji. He stumbles into Leela's bedroom while assisting her to the loo. They both feel helpless.
Also Read: Leo: Thalapathy Vijay-starrer to release on OTT, here's when and where to watch
Anuj will be seen bringing Baa and Bapuji to the Kapadia residence and caring for them. Malti Devi would lose her cool when she sees Anuj caring for them.
Last Updated Nov 20, 2023, 12:57 PM IST