Ananya Panday gets trolled for copying Meryl Streep's iconic monologue from 'The Devil Wears Prada'
Call Me Bae: The first trailer for Prime Video's forthcoming show Call Me Bae has Ananya Panday as a "fashion expert" who roasts Varun Dhawan.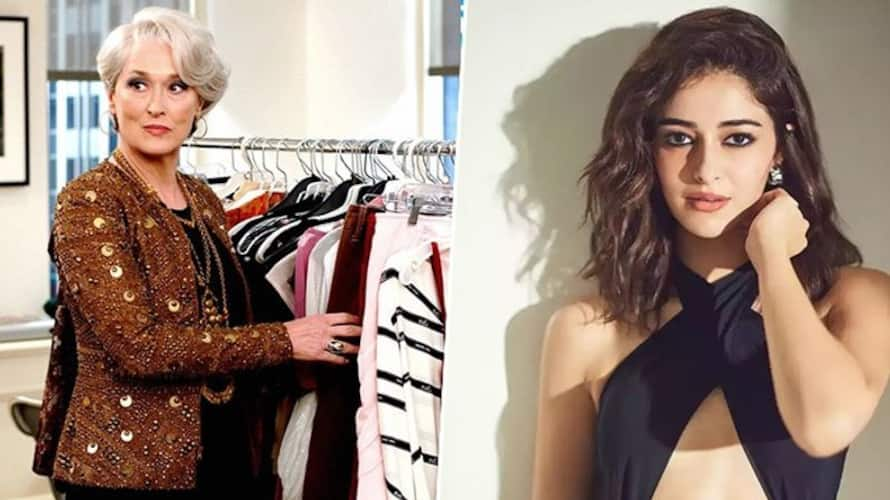 Ananya Panday stars in the new Amazon Prime Video series 'Call Me Bae,' the first trailer for which was released on Thursday. As the 'fashion expert', Ananya Panday gives a Meryl Streep-inspired speech to Varun Dhawan on the origins of his boxers in the teaser, which depicts banter between her and Varun Dhawan about all things fashion and apparel.
Taking to Instagram to share the first glimpse of the show, the streaming platform wrote in the caption, "pakki khabar hai guys, (It's confirmed news) @ananyapanday is the new fashionista in the primeverse! watch this first glimpse and stay tuned #CallMeBae New Series, Now Filming! #PrimeBae."
Also Read: Kangana Ranaut's 36th birthday: Actress apologises to people she has hurt (WATCH)
The video begins with Varun directly addressing the audience to introduce the new programme called Call Me Bae. Ananya interrupts and asks to call 'ME' Bae because it is her show in which she plays a "complete fashion guru." Varun then sneers that just because she refers to designer Manish Malhotra as her 'chachu' (uncle), she isn't a fashion guru!
Varun laughs as Ananya attempts to decide between two blue belts with the help of her stylist. She gets upset by the unneeded laughing and channels her Miranda Priestly avatar (the renowned character played by actress Meryl Streep in 2006's The Devil Wears Prada) to mock Varun over his 'chomu blue boxer' that was packed for him by the 'fashion log (people)' he criticises. Varun then tries to calm her down by referring to her as 'Meryl Panday,' saying, "She is going to kill it in Call Me Bae." "I know!" Ananya responds.
Also Read: Priyanka Chopra, Nick Jonas turn Disney characters; check out their cute video (WATCH)
The video elicited various reactions in the comments section, with some praising the adorable banter between Ananya and Varun and others finding the clear influence from The Devil Wears Prada incomprehensible. 
A comment read, "hehe this is so cute and our prime bae is super cutttoo," while another said, "Mr. Bae is the cutest (red heart emoticons)." 
Meanwhile, some users trolled the actress for copying Meryl Streep's popular character Miranda Priestly's iconic monologue from 'The Devil Wears Prada'. "Nope. Just NO. Remove that dialogue from her mouth. Not acceptable," read a comment, while another user said, "Another show for south Bombay audience."
Last Updated Mar 23, 2023, 2:15 PM IST