Alia Bhatt shares Ranbir Kapoor cleared work schedule to take up dad duties says, 'So I could work with ease'
Alia Bhatt said that when she signed the film 'Jigra', Ranbir Kapoor cleared his schedule for the next few months so he could be with their daughter Raha and Alia could work with ease.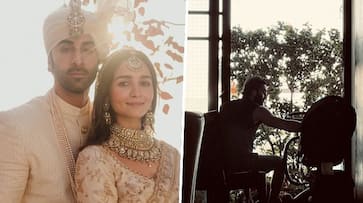 Alia Bhatt revealed on Saturday that she and her husband Ranbir Kapoor plan their days so that one of them is always with their daughter Raha. She also said that as parents and professionals, they can empathize with young parents who are responsible for raising their children while also satisfying their work commitments. She also mentioned that as she has signed up for a film, Ranbir has cleared his dates so that he can be with her. 
Alia on parenting and work
"The truth is you have to have your priorities straight," the 30-year-old actress stated. "Raha will always be our main priority. And our work is an important part of who we are. I know I don't want to lose that piece of myself because it brings me joy. It's what keeps the flames burning. And she'll remember that about her parents when she's older." 
Ranbir clears dates to spend time with Raha
Ranbir has cleared his schedule so that Alia can work on her upcoming project 'Jigra' with filmmaker Vasan Bala. "When I accepted Jigra, Ranbir cleared his schedule for the next few months so I could work with ease. There are many night schedules, which worked out extremely nicely for me because I get to spend the day with her. I only get five hours of sleep. But I think one of the things you give up as a parent is sleep."
'Jigra' is Alia's second project through Eternal Sunshine Productions, following the Netflix release of 2022's 'Darlings'.
On the work front
Alia will be seen in an action film 'Jigra' which she will co-produce with Karan Johar. 'Jigra' will be released in theaters on September 27, 2024. Alia's Eternal Sunshine Productions and Dharma Productions are co-producing the film. Co-producers include Karan Johar, Apoorva Mehta, and Somen Mishra.
On the other hand, Ranbir Kapoor will be seen in the action thriller 'Animal' along with Rashmika Mandanna, Anil Kapoor, and Bibby Deol. The film will be released worldwide on December 01, 2023. 
Last Updated Nov 5, 2023, 1:29 PM IST