Aamir Khan reveals daughter Ira Khan's wedding date with Nupur Shikhare; anticipates crying a lot
Aamir Khan's daughter Ira is set to marry Nupur Shikhare on January 3, 2024, as revealed by Aamir. He praised Nupur for his support and called him "a lovely boy." The couple got engaged in November, and Aamir expressed his happiness for their loving relationship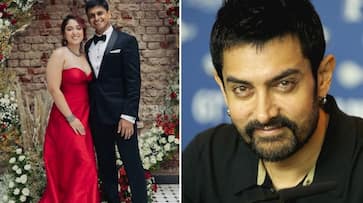 Aamir Khan's daughter, Ira Khan, and her fiancé Nupur Shikhare have set a wedding date for January 3, 2024. Aamir Khan, in a recent interview with News18 India, shared the exciting news about his daughter's upcoming nuptials and expressed his fondness for Nupur.
Ira Khan and Nupur Shikhare got engaged in November of the previous year, and their engagement ceremony was attended by close family and friends, including Aamir Khan, Imran Khan, Kiran Rao, Fatima Sana Shaikh, Mansoor Khan, and others.
Aamir Khan, during the interview, affectionately praised Nupur Shikhare, referring to him as a son. He shared his admiration for Nupur's character and how he has stood by Ira during her struggles with depression, providing her with emotional support.
Aamir confirmed that Nupur is a lovely boy and he has already become a part of the family in such short a time. "And his mother, Pritam ji, is someone who is already a part of our family," said Aamir. He then admitted that he was going to be extremely emotional on Ira's wedding day. "Main toh bada emotional hota hoon bhai, us din main bohot rone waala hu yeh toh tay hai. (I'm very emotional. I'm going to cry a lot that day). Discussions have already begun in the family that 'Aamir ko sambaalna uss din (take care of Aamir that day)' because I am very emotional. I can't control my smile nor my tears," said Aamir.
Aamir Khan stated, "Ira is getting married on January 3. The boy she has chosen is — waise toh pet name unka naam Popeye hai (by the way, his pet name is Popeye the sailor man) — he is a trainer, he has arms like Popeye but his name is Nupur. He is a lovely boy."
He went on to express his happiness at seeing Ira and Nupur in a loving and caring relationship, emphasizing how they look after and support each other.
Ira Khan is the daughter of Aamir Khan and his former wife, Reena Dutta. She and Nupur Shikhare began dating in 2020 and made their relationship public on social media in 2021.
ALSO READ: Ariana Grande-Dalton Gomez Divorce settlement: Privacy clauses and other clauses revealed; Read here
Last Updated Oct 11, 2023, 10:26 AM IST