'Red Flag': Deepika Padukone slammed by fans for 'open relationship' before engagement to Ranveer Singh
After a long and agonizing wait from audiences and fans, the first episode of Koffee with Karan Season 8 featured Ranveer Singh and Deepika Padukone. In a video clip of episode 1 going VIRAL on Reddit and Twitter, Deepika Padukone finally revealed herself about being in an 'open relationship' before getting engaged to Ranveer Singh in 2015.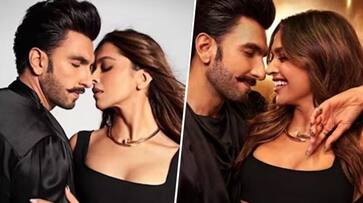 The eighth season of Koffee with Karan has embarked with a bang, featuring the dynamic duo and most popular bollywood real-life couple Ranveer Singh and Deepika Padukone as the first guests on eminent bollywood filmmaker Karan Johar-hosted talk show. The classic rapid-fire round, known for its fiery and twisted questions, lived up to its reputation, with Ranveer and Deepika delivering intriguing and riveting answers. Also, after watching the dreamy and love-filled wedding video of Ranveer and Deepika on the popular celebrity chat show.
ALSO READ: Koffee With Karan 8: Karan Johar reveals about his 'anxiety attack' at NMACC launch
Deepika Padukone addressed the rumours of herself being in an open and non-serious relationship with other guys she met before her engagement to Ranveer Singh. The specific video clip has gone heavily viral on social media platforms Reddit and Twitter. In the viral video clip, Deepika Padukone opened up about being in an open relationship before engagement with Ranveer Singh. 
Talking about the same phase, Deepika said, "I wanted to be single for a while. Firstly, I had gotten out of some difficult relationships. I went through a phase where I said I did not want to be involved in a committed relationship. I wanted to have fun because it was the right age. Then suddenly, a moment happened when he came along in my life. I had no relationship with him. Until he proposed to me. It was not really a commitment as such. Because even if we could technically see other people, we could still get back together. I met other people. But I was not particularly excited or interested in the others I saw. In my mind, I was committed to him. I met other people but always went back to him."
Deepika admits to being in an Open Relationship with Ranveer until he proposed to her in 2015
byu/Rast987 inBollyBlindsNGossip
This video clip went viral on Twitter and Reddit. Netizens have slammed Deepika Padukone for being in an open relationship before being engaged to Ranveer Singh.
A fan bashing Deepika indirectly on X wrote, "After all those dreamy wedding videos, comes this one. It proves how Bollywood relationships happen with a pinch of salt & not something to take inspiration from."
Another fan slamming Deepika added, "If this is not a red flag, I do not know what is. Deepika is really the biggest red flag. Ranbir dodged a missile. If I were in place of Ranveer, I would have slapped this bitch on camera."
A fan on Reddit mocking Deepika said, "She is just contradicting herself. First, she said that they became exclusive after six months of dating. Here, she said after the proposal, Like three years from 2012. Girl, please get your story right."
Another netizen trolling Deepika on Reddit said, "I can see many writing how it is casual dating. But she should not have made it sound like she explored until he proposed. That seemed very disrespectful. He is now your husband. And people would not take it well if this same type of statement had come from someone like Ranbir. Then they would have given it the meaning of a red flag and said GIRL, HAVE SOME SELF RESPECT. I miss those days when people fell in love by being with each other and never lay eyes on anyone else."
A user taking potshots at Deepika adds, "She was not only cheating on RS. But also all the other guys she was seeing at that time. It is such a disgusting thing to do! And why tf were you seeing other people if you were mentally committed to chichhora? Cheap, perverted couple."
Another fan mocking Deepika shares, "Even if we were allowed to see other people, we just kept coming back to each other." Nahh. Hell nah. From personal experience, it is such a toxic thing to do."
A fan criticizing Deepika shares, "She is the most hypocrite drama queen actor I have ever seen. She can say and do anything for publicity. Her main weapon is depression."
ALSO READ: Koffee With Karan 8: Ranveer Singh's 'special message' for critics bashing him for 'Don 3' is unmissable
Last Updated Oct 26, 2023, 1:10 PM IST