The set to start the shooting of the movie Chomana Dudi (one of the milestone movies in the Kannada film industry) was ready at a village near Belthangadi in Dakshina Kannada district. Theatre person, actor BV Karanth was to direct the movie.
The entire set was thrilled when they saw the legend writer Jnanpith Awardee Shivaram Karanth walking towards the set during the launch of the movie (mahoortha event). Makeup  artist Ramakrishna was no exception. He was waiting for the right moment to talk to the writer.
But as soon as the event was over Shivaram Karanth opened his umbrella and started walking off the set. Ramakrishna thought that was the right time and ran to him. Looking at him Karanth stopped and Ramakrishna introduced himself as the makeup artist.
That moment Shivaram Karanth's face stiffened and he started staring at Ramakrishna. After a moment, Karanth said "My Choma is dark, he is not fair." Not knowing what to say, he came running to the director BV Karanth and explained whatever Shivaram Karanth had said.
The reason for Shivaram Karanth to get angry was that the person playing the role of Choma, i.e. Vasudevarao had a fair skin and he had not done any makeup for the role during the launch event. That moment the director decided to turn Choma to the complexion that would justify the role in the book.
He took advise from the writer Shivarama Karanth on how exactly Choma looked. Ramakrishna wasted no time and rushed to Mangalore to get the necessary tools to turn Choma dark and true to the book. When the makeup was finished, the Choma had come to life and was ready for the shot.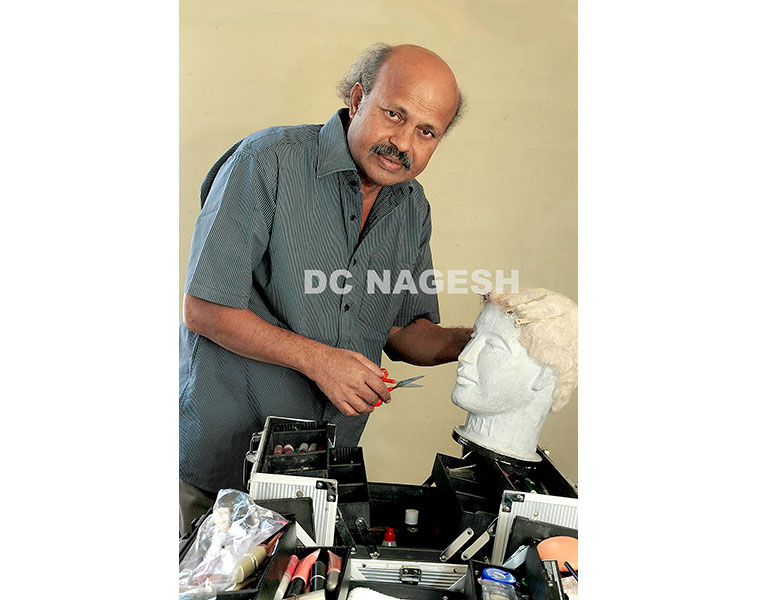 Eventually the movie directed by BV Karanth won the Swarna Kamal award. Vasudevrao who played Choma was honoured with best actor award in the National Film Award ceremony.
Decades have passed since Chomada Dudi but Ramakrishna's passion for makeup remains the same. He recently won the National Award for best makeup for the movie Allama, directed by TS Nagabharana.
He is in this field of making the character colourful (with the right touch of colour) for four decades now. He has worked in art as well as commercial films. He has worked as the makeup artiste for more than 500 films. He is a popular name not only in Kannada but also in Tamil, Telugu and Hindi.
He has acted in more than 100 films. He had played major roles in many films including Hindi movie Geherayi. His two daughters too are in the field of cinema. Sonu Gowda is a known actress in the Kannada film industry and younger daughter Neha is shining in the small screen.