There have been numerous films in Kannada on Lord Shiva. Kailasa, which is Shiva's abode, is the integral part of most of the mythological stories. Thus, whether it is a complete movie on Shiva or about any mythological story, Shiva's presence is a must. In Kannada there have been hundreds of movies on Lord Shiva, including Bedara Kannappa, Bhakta Siriyala, Bhakta Markandeya, Bhakta Mallikarjuna, Bhu Kailasa, Girija Kalyana, Gange Gowri, Parvathi Kalyana, Shivakotta Sowbhagya, Sri Dharmasthala Mahatme, Shiva Mecchida Kannappa, Shiva Kotta Sowbhagya, Swarna Gowri, Bala Shiva and many more.
However, the movie Shivarathri Mahathme, directed by PR Koundinya is one of the most important films in Kannada on Lord Shiva. But another movie made with a lot of expectations- Prachanda Ravana- did not do well in the box office. After a series of movies on the same lines in the 90s people started watching more of romantic and action-oriented movies. Even film makers did not come forward to make movies on gods, in such times. Thus as the number of worship and God-oriented films came down, even the Shiva character in the movies saw a decline.
Currently, the televisions have started the trend of telecasting god-related movies and of course, Shiva has found his way into the small screen and these series are quite very popular in all languages.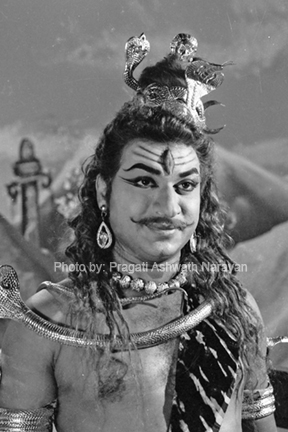 Shiva as a character 
Wide temple, big moustache, straight forward attitude, untamed-simple smile are the basic features of the Lord Shiva as shown the movies. In Kannada cinemas, if one person has to be named who fit the Shiva role perfectly is Dr Rajkumar. Though his first film Bedara Kannappa had the role of Shiva, i was enacted by Ramachandrashastri. In another film which had Dr Raj in the lead role- Swarna Gowri- Telugu actor Satyanarayana played the role of Shiva. But in the movie Parvathy Kalyana, Dr Rajkumar himself was the Shiva and the movie was a big hit.
Dr Rajkumar's contemporary actor KS Ashwath too was powerful in enacting the Shiva. Another actor Shrinivasmurthy has been perfect to the role in Gurushishyaru, Najundeshwara Mahime and Shivaleele.
Kannada actor Sridhar, who is also a classical dancer has portrayed Shiva in the movies Shabarimaleswamy Aiyyappa, Kolluru Mookambike, Balashiva and Mahasadhvi Mallamma, gracefully. His tandava dance (Lord Shiva's famous dance) accompanied by another dancer Dr Sanjay had won lakhs of hearts. Even Dr Vishnuvardhan had played the role of Lord Shiva in the movie
Prachanda Kulla. In the movie Shri Manjunatha, Telugu star Chiranjeevi was the Shiva.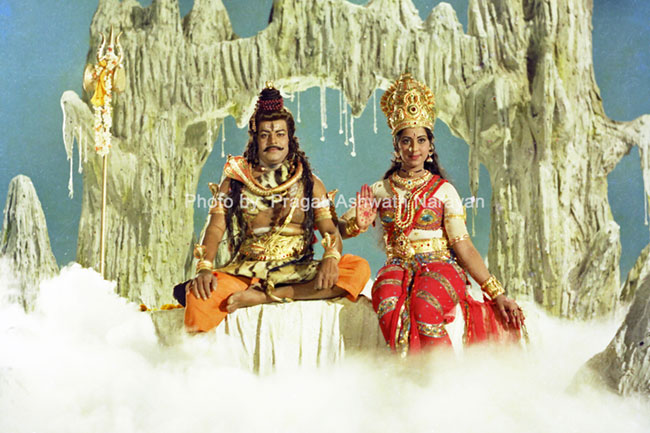 Popular songs on lord Shiva 
Currently, the entire country is singing sings of Lord Shiva and most of the songs are from the movies. In Karnataka, hundreds of CDs, DVDs and free music apps have the devotional songs. In Kannada popular singers including SP Balasubramanyam, BK Sumitra, Kasturi Shankar, Dr Rajkumar and Rajesh Krishnan have sung hymns in praise of Lord Shiva. Songs like Shivappa Kayo Tande from the movie Bedara Kannappa; Shiva Shiva Endara Bhayavilla Bhoomige Banda Bhagavantha; Yeke Ee Kopa Shankara from Bhakta Siriyala; Shivanolidare from Chellida Raktha; Elu Elu Shiva from halunda
Tavaru can be heard even to this day on various devotional occasions.