WTC Final, IND vs AUS: Don't want to think about my past, want to start afresh - Ajinkya Rahane
Rahane doesn't have any regrets about the time lost and wants to move ahead with a positive mindset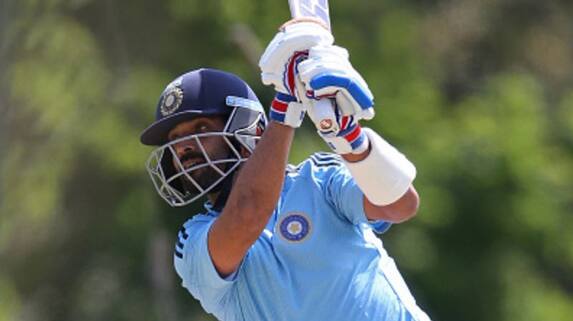 Ajinkya Rahane makes a comeback to the Indian cricket team after nearly 18 months, the right-hand batter had a brilliant season with the Chennai Super Kings and is raring to get onto the field.
We saw a completely different side of Rahane in the IPL, he walked out with positive intent and delivered the goods for his team. He doesn't want to have any regrets about the time lost and wants to carry on with a positive mindset. 
Rahane's experience will be valuable for India in the highly-anticipated World Test Championship final which is scheduled to start on the 7th of June 2023. His ability to absorb pressure, play long innings, and play the anchor's role make him an important cog in the batting line-up.
Also Read: Klusner hails Hardik Pandya as one of the best pace-bowling all rounders; shares his view on WTC final
"Coming back after 18-19 months, whatever has happened, good or bad, I don't want to think about my past. I just want to start afresh and keep doing whatever I have been doing," Rahane told BCCI.TV on the sidelines of India's training session at Arundel in Portsmouth.
"Personally enjoyed playing for CSK as I have been batting well throughout the season, even before IPL. I had a very good domestic season and I felt good. So this comeback was a bit emotional for me."
Rahane also praised Rohit Sharma for his leadership during the World Test Championship cycle
"I thought culture in team now is really good. Rohit is handling the team really well and I am sure Rahul bhai is also handling the team really well. That helps as well and atmosphere is really good. Whatever I am seeing right now is that everyone is enjoying each other's company," he said.
Also Read: WTC Final, IND vs AUS: Khawaja backs in-form Warner to perform against India and in the Ashes
Rahane also mentioned that his family was a massive support during the tough time and all he thought was getting back playing for the Indian cricket team.
"It was an emotional moment for me, When I got dropped, the support of my family was massive. Playing for India matters a lot to me and I have worked hard on my fitness and went back to domestic cricket."
"When I went back to domestic cricket, the goal was to play for India be it Ranji Trophy, Syed Mushtaq Ali or practice sessions, for me, every day the only thing I thought of was playing for India again.
Last Updated Jun 3, 2023, 6:19 PM IST