Should Babar Azam step down as captain after WC exit? Here's what Pakistan teammates have advised
Pakistan finished fifth in 10 team table of the ODI World Cup 2023 and missed out on semi-final qualification, leading to a lot of criticism from fans and former players, who have sought a change in leadership.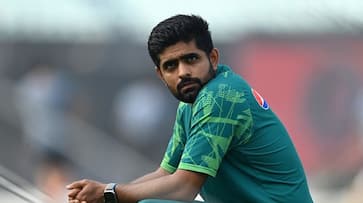 Pakistan's cricket captain, Babar Azam, finds himself at a crucial juncture in his leadership role following the team's disappointing performance in the ODI World Cup 2023 in India. As criticism mounts and calls for a change in leadership grow louder, Babar is confronted with the decision of whether to step down as captain. Pakistan finished fifth in 10 team table and missed out on semi-final qualification, leading to a lot of criticism from fans and former players. However, he seems to have the support of his teammates, who have advised against such a move, and the final verdict may lie with the Pakistan Cricket Board (PCB) headed by Zaka Ashraf.
"Babar has already spoken to his teammates, and majority of them advised him not to step down himself. He will come out with a clear line of action once he returns home with the team after failing to make the semi-finals of the World Cup in India. But, he will not step down himself," a PCB source told PTI.
Also read: 'To be honest...': Pakistan skipper Babar Azam's take on Indian hospitality during ODI World Cup 2023 (WATCH)
Babar Azam has reportedly consulted with his teammates, and the majority have discouraged him from resigning as captain. This camaraderie within the team is crucial, with players like Imam ul Haq, Shadab Khan, Shaheen Shah Afridi, and Haris Rauf considered close to the skipper. Last year, when rumors circulated about removing Babar from the Test captaincy, players expressed solidarity on social media, emphasizing their support with the hashtag "Sochna Bhi Mana Hai" (Don't even harbor such thoughts).
Despite the team's failure to reach the World Cup semi-finals, Babar Azam appears determined to continue as the national captain across formats. With challenging tours to Australia and New Zealand on the horizon, he seems inclined to leave the decision of his captaincy to the PCB, particularly Zaka Ashraf, the board's head.
"He will most probably leave the decision of whether he should remain captain or not up to the Pakistan Cricket Board headed by Zaka Ashraf," a well-informed source close to the skipper told PTI.
In late 2019, after Pakistan's World Cup campaign in England, where they fell short of reaching the semi-finals, Babar Azam was appointed as the white-ball captain for the 'Green Shirts,' succeeding Sarfaraz Ahmed. Subsequently, in 2021, he assumed the role of Test captain, taking over from Azhar Ali. While Babar has achieved notable success in T20 Internationals, guiding Pakistan to the finals of the Asia Cup T20 and the T20 World Cup last year, his performance in Tests and ODIs has not been as impressive. The disparity in his records across formats has raised questions about his effectiveness as a leader in all facets of the game.
Also read: Gratitude exchanged: Indians thank Afghanistan for spirited show, Afghans applaud hospitality post WC exit
Drawing parallels with the aftermath of Pakistan's 2016 T20 World Cup campaign in India, where they failed to progress beyond the Super 10 stage, the captaincy saw a change. Following that disappointing campaign, both skipper Shahid Afridi and head coach Waqar Younis faced the axe from the PCB, highlighting the board's historical willingness to make significant changes in leadership based on performance.
Zaka Ashraf, the head of the PCB, has emphasized a deliberative approach to decisions concerning captaincy and team management. He has conveyed his intention to seek input from former players, including key figures like Misbah ul Haq, who served as head coach and chief selector during Babar Azam's captaincy tenure, and Muhammad Hafeez, among others.
Zaka has already initiated discussions with former players, such as Mohammad Yousuf and Aaqib Javed, actively seeking their valuable insights and advice regarding future decisions for the team. This consultative process underscores Zaka's commitment to gathering perspectives from experienced cricket personalities as part of the decision-making process.
Last Updated Nov 11, 2023, 9:55 PM IST