Rejig in Pakistan cricket after abysmal World Cup campaign? Waqar Younis, Shahid Afridi may get key roles
The article discusses the post-ODI World Cup 2023 scenario for the Pakistan cricket team, including potential appointments of former cricketers to key positions, even as captain Babar Azam faces scrutiny.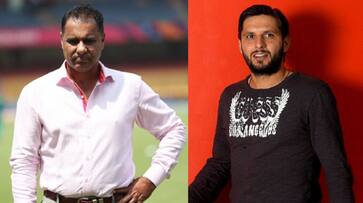 After the ODI World Cup 2023, there is reportedly a deliberation about appointing former cricketers Waqar Younis, Aqib Javed, and Shahid Afridi to significant positions within the Pakistan Board and team management. The discussions suggest that a new set-up will be established as soon as the current interim arrangement concludes. The names of Younis Khan and Azhar Ali are also reportedly in circulation as potential additions to the upcoming leadership structure. This consideration implies that a revamp is on the horizon, with an emphasis on introducing fresh faces and perspectives.
The 12-member committee, led by Zaka Ashraf and overseeing the PCB, has been granted a three-month extension, prolonging its tenure until February of the upcoming year. During this extended period, critical positions such as chief selector, Director of cricket, and coaching staff for the national side will reportedly be open for selection.
Also read: Should Babar Azam step down as captain after WC exit? Here's what Pakistan teammates have advised
"After the World Cup since the Pakistan squad has to leave for Australia and New Zealand. Zaka Ashraf who heads the cricket management committee running the Pakistan Cricket Board affairs has already started discussing possible plans and appointments for the future," a PCB insider told PTI.
Within the decision-making process, there is reported contemplation regarding Shoaib Malik's involvement, with considerations for either the captaincy or coaching position for the national T20 side. The source indicated to PTI that Malik's name is under discussion as part of the restructuring plans.
Zaka Ashraf, heading the decision-making process, has reportedly outlined a methodical approach. Decisions regarding crucial positions will be made after consultations with former players. Additionally, a comprehensive evaluation of the team's performance in both the Asia Cup and the World Cup will play a pivotal role in shaping the future direction of the national side.
Waqar Younis, with two stints as the head coach of the Pakistan team, along with Aqib Javed and Younis Khan, who have served as bowling and batting coaches in the past, are being considered for key roles. Their collective coaching experience brings a wealth of knowledge and familiarity with the team dynamics.
Babar Azam, the current captain, has faced scrutiny for his leadership skills and batting form during the World Cup. Despite the criticisms, he has defended himself, adding an additional layer of complexity to the decision-making process surrounding the team's leadership.
Also read: 'To be honest...': Pakistan skipper Babar Azam's take on Indian hospitality during ODI World Cup 2023 (WATCH)
Remarks made by Babar Azam during a press conference on Friday have drawn criticism from former cricket stalwarts Wasim Akram and Shahid Afridi. On Saturday, the seasoned duo advised Babar to channel his energy into on-field performances rather than engaging in verbal exchanges. They emphasized the significance of focusing on playing well and delivering results that speak louder than words, urging Babar to let his performances silence his critics.
"I don't think Babar needs to give any response, he should just concentrate on playing well so that no one can criticise you," Afridi stated.
Akram added that Babar must understand that, "If you do well, everything goes fine. But if you don't, then you have to be answerable to people and in the media." 
Last Updated Nov 11, 2023, 10:21 PM IST