ODI World Cup 2023: Success in IPL gave confidence, says Australia's Maxwell after record-breaking century
Australian cricket star Glenn Maxwell blazes a trail at the 2023 World Cup with a record-breaking century, showcasing his IPL-fueled brilliance.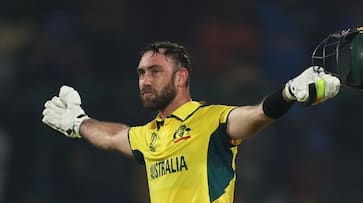 Glenn Maxwell, the star Australian all-rounder, acknowledged his record-breaking World Cup century and credited his experience playing in India, particularly in the IPL, for achieving the fastest 40-ball ODI century in World Cup history. Maxwell's explosive innings of 106 from just 44 balls, including nine fours and eight sixes, powered Australia to a commanding total of 399 for eight against the Netherlands.
His recent ODI form had been less impressive, averaging only 12.4 in 2023 and not scoring a half-century in India in ODIs since early 2017. However, Maxwell brushed off concerns, stating, "The fact that I've consistently performed in India during the IPL over the past few years means I'm not overly concerned about my ODI form. My role in one-day cricket is so similar to T20, so I draw on those experiences, knowing that when I get it right on the day, it benefits my team."
Maxwell's confidence stemmed from his success in the IPL and strong performances in practice games leading up to the World Cup. He emphasized that his sporadic ODI appearances over several years and on different continents didn't provide a reliable basis for assessing his abilities.
He also admitted to closely monitoring statistics, particularly records for the fastest 50 and 100, though sometimes to the detriment of his gameplay. Maxwell recalled an instance when he fell short of a fast century due to over-ambition.
Despite feeling under the weather on the day of his record-breaking innings, Maxwell was more relaxed and surprisingly not as eager to bat. He didn't specify the reason for this change in approach but attributed it to some challenging days leading up to the match.
Over the past year, Maxwell faced setbacks, including a leg injury and ankle soreness following the T20 series against South Africa. The period of recovery and doubt weighed on him, but he's now relieved to contribute fully to his team.
However, Maxwell expressed displeasure with the light shows during drinks breaks at the World Cup, citing that they caused headaches and impaired players' vision. He regarded these shows as great for fans but detrimental to the players' focus.
Also Read: ODI World Cup 2023: Hardik Pandya could miss more games due to 'grade 1 ligament tear in ankle'
Last Updated Oct 26, 2023, 1:18 PM IST