IND vs NZ: Jay Shah trolled for sitting between Sachin Tendulkar, David Beckham; sparks meme fest
Legendary England footballer David Beckham, India's cricketing 'God' Sachin Tendulkar were among some of the celebrities to grace the India vs New Zealand semifinal clash at Wankhede Stadium in Mumbai on Wednesday.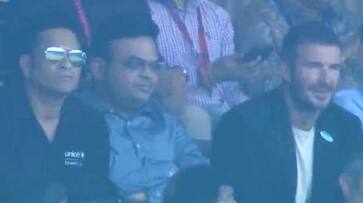 As the cricketing world relished the high-stakes ODI World Cup 2023 semifinal clash between India and New Zealand at Mumbai's iconic Wankhede Stadium on Wednesday, a rather unexpected focus emerged off the pitch. BCCI Secretary Jay Shah found himself at the center of attention and became the subject of online trolling after being spotted seated between the legendary Sachin Tendulkar and international football icon David Beckham.
Also read: Iconic! Netizens go berserk as legends Sachin Tendulkar, David Beckham pictured together at Wankhede Stadium
The unusual seating arrangement, capturing the trio in a single frame, quickly circulated on social media, sparking a flurry of comments, memes, and playful jabs at Jay Shah's positioning. While the cricketing fraternity and fans were engrossed in the thrilling encounter on the field, the offbeat spectacle off the pitch became a trending topic.
Social media platforms were flooded with humorous remarks and light-hearted banter about Jay Shah seemingly finding himself in an unexpected star-studded sandwich between two global sporting icons. Memes and captions playfully speculated about the conversation that might be unfolding between Tendulkar, Beckham, and Jay Shah during the match.
While the incident provided a light-hearted moment amid the intensity of the World Cup semifinal, it also raised questions about the protocol and arrangements made for such high-profile events. Fans and observers shared varied opinions, with some expressing amusement at the unconventional seating, while others questioned the optics of the BCCI Secretary occupying such a prominent spot.
Also read: ODI World Cup 2023: Has there been a pitch-switch to favour India in semifinal clash vs New Zealand?
"What is Jay Shah doing in between Sachin Tendulkar and David Beckham?" asked one user on X, while another stated, "Sachin & Beckham in stands. Just Jay Shah in the middle of them makes the frame look ugly."
Here's a look at some of the reactions that went viral on X:
Last Updated Nov 15, 2023, 3:48 PM IST