Iconic! Netizens go berserk as legends Sachin Tendulkar, David Beckham pictured together at Wankhede Stadium
Sachin Tendulkar and David Beckham's iconic encounter at Wankhede Stadium ahead of the ODI World Cup 2023 semifinal goes viral, capturing the essence of sportsmanship and global camaraderie.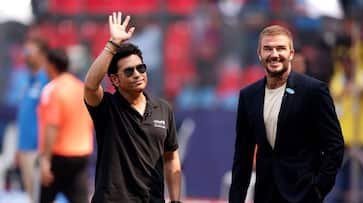 In a rare and iconic moment, cricketing maestro Sachin Tendulkar and football legend David Beckham were captured sharing a candid conversation at Mumbai's Wankhede Stadium on Wednesday. The photograph, which has quickly gone viral, has added a touch of star-studded glamour to the atmosphere ahead of India's highly anticipated semifinal clash against New Zealand in the ODI World Cup 2023.
The image showcases the meeting of two sporting icons from entirely different realms, underlining the universal appeal of sports that transcends boundaries and disciplines. Sachin Tendulkar, widely regarded as one of the greatest cricketers of all time, and David Beckham, an iconic figure in the world of football, embody the spirit of sportsmanship and excellence.
As cricket enthusiasts eagerly await the high-stakes semifinal match, the unexpected convergence of Tendulkar and Beckham has become a talking point on social media, drawing attention from fans of both cricket and football. The photograph captures the essence of sports diplomacy, showcasing how the love for the game unites even the most celebrated figures in the sporting world.
Also read: ODI World Cup 2023: Has there been a pitch-switch to favour India in semifinal clash vs New Zealand?
While Tendulkar's association with Wankhede Stadium is deeply rooted in his illustrious cricketing career, Beckham's presence adds an international flair to the event. The image not only immortalizes a historic moment but also sparks speculation about the exchange of insights and camaraderie between the two legends.
The social media buzz around the photograph reflects the global excitement surrounding the ODI World Cup and the electrifying atmosphere building up to the crucial clash between India and New Zealand. Fans from different corners of the world are sharing their excitement and admiration for the chance encounter between these two sporting titans.
As the cricketing world awaits the outcome of the India-New Zealand encounter, this photograph stands as a symbol of the universal language spoken by sports – a language that brings together individuals from diverse backgrounds to celebrate skill, passion, and the thrill of competition. Whether it's a cricket pitch or a football field, legends like Tendulkar and Beckham continue to inspire generations and contribute to the timeless legacy of sportsmanship.
Here's a look at how netizens reacted to Tendulkar and Beckham's iconic meeting at Wankhede:
Last Updated Nov 15, 2023, 1:54 PM IST