ODI World Cup 2023: Rohit Sharma's stellar performance propels India to 8 out of 8 WC wins against Pakistan
In the ODI World Cup 2023, India showcased their dominance once again with a remarkable 8th consecutive victory against Pakistan in World Cup history. The driving force behind this triumph was none other than Rohit Sharma, whose exceptional performance proved pivotal in steering India to an impressive win.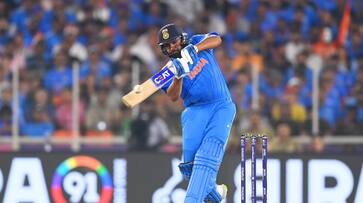 India clinched their 8th consecutive win in the ODI World Cup 2023, triumphing over their fierce rivals, Pakistan. The hero of the match was Rohit Sharma, whose outstanding performance played a pivotal role in steering India to an impressive victory against a formidable opponent.
India maintains an unblemished record against Pakistan in the 50 overs World Cup, delivering another substantial defeat to their Asian counterparts in this prestigious tournament. The scorecard now reads 8-0 in favor of India, showcasing their dominant performance. A standout partnership between Babar Azam and Mohammad Rizwan was a lone bright spot for Pakistan amidst India's sheer dominance. The match in Ahmedabad was a sea of blue, with the Men in Green completely overwhelmed.
In the early stages of the match, India won the toss and chose to field. Indian pacers, particularly Jasprit Bumrah, showcased excellence, while Mohammed Siraj initially struggled, conceding regular boundaries to Imam-ul-Haq and Abdullah Shafique. However, Siraj found his rhythm in the 8th over, trapping Shafique in front of the stumps. Despite a steady start, Imam-ul-Haq couldn't convert it into a substantial innings and was dismissed by Hardik Pandya in the 13th over.
Babar Azam (50 off 58) and Mohammad Rizwan (49 off 69) built a crucial partnership, contributing 82 runs for the third wicket. Pakistan looked strong at 155/2, but once Siraj shattered the stumps of Babar Azam in the 30th over, a massive collapse ensued, leading to Pakistan being bundled out for 191 in the 43rd over.
Kuldeep Yadav (10-0-35-2) and Jasprit Bumrah (7-1-19-2) displayed brilliance in their comeback spells, outsmarting the Pakistani middle and lower-order batsmen with remarkable deliveries. Ravindra Jadeja (9.5-0-38-2) then efficiently handled the tailenders. Nearly every bowler for India, except Shardul Thakur, secured a couple of wickets each.
Shifting focus to the chase, Rohit Sharma continued his exceptional form from the previous game, relentlessly smashing boundaries and displaying no mercy towards the visiting bowlers. Shubman Gill (16 off 11) and Virat Kohli (16 off 18) showcased flashes of brilliance but couldn't stay at the crease for an extended period.
Also Read: Pakistan's batting collapse: A closer look at the fall of wickets
Last Updated Oct 14, 2023, 8:30 PM IST