ODI World Cup 2023: Rachin Ravindra becomes first New Zealand player to score three WC hundreds
In a historic moment at the 2023 World Cup, New Zealand's Rachin Ravindra made cricket history by becoming the first New Zealand batter to achieve a remarkable feat of three World Cup centuries.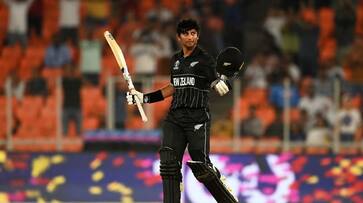 In a thrilling match during the 2023 World Cup showdown between New Zealand and Pakistan at the M. Chinnaswamy Stadium in Bengaluru, New Zealand's Rachin Ravindra achieved a remarkable milestone that etched his name in the annals of cricket history. On this electrifying Saturday, the 23-year-old left-handed batter accomplished something extraordinary by becoming the very first New Zealand player to record three centuries in the World Cup tournament. This extraordinary feat was not an overnight success; rather, it was the culmination of consistent brilliance displayed by Ravindra throughout the tournament.
Ravindra's exceptional performance in the World Cup included centuries against formidable opponents like England and Australia, where he showcased his unwavering dedication and masterful batting skills. It was in the 34th over of the match against Pakistan that Ravindra reached his third century for this World Cup, tapping a delivery from Mohammad Wasim Jr. for a single. This century was not just a personal achievement but a testament to his value to the New Zealand team.
As if the century milestone wasn't impressive enough, Ravindra's remarkable innings also propelled him past the coveted 500-run mark in the current World Cup edition. He joined an elite club of Kiwi batters, including the likes of Martin Guptill and Kane Williamson, who have managed to accumulate 500 runs in a single World Cup tournament. It's worth noting that achieving this milestone is a testament to his consistency and the impact he has had on New Zealand's performance in the tournament.
However, every magnificent innings eventually comes to an end, and Ravindra was no exception. He departed in the 36th over, having amassed a formidable total of 108 runs, falling to the bowling of Mohammad Wasim Jr. Nevertheless, his contribution to New Zealand's World Cup campaign is undeniable, and his overall tally now stands at an impressive 523 runs in this edition. While he may have momentarily slipped to second place in the list of top run-scorers, with South Africa's Quinton de Kock leading with 545 runs, Ravindra's legacy as the first New Zealand batter to achieve three World Cup centuries is etched in the record books, and his star continues to rise in the world of international cricket.
Also Read: ODI World Cup 2023: Sunil Gavaskar applauds Shreyas Iyer's remarkable performance against Sri Lanka
Last Updated Nov 4, 2023, 2:05 PM IST