Jasprit Bumrah and Mohammed Shami strike early as India tightens grip on Australia in World Cup Final
The Indian bowlers, Jasprit Bumrah and Mohammed Shami, displayed exceptional bowling with the new ball, making a formidable start while defending a total of 240.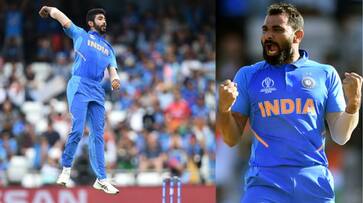 In the highly anticipated World Cup Final between India and Australia, the Indian bowlers showcased their prowess, especially in the crucial early overs, as they defended a total of 240. Led by the dynamic duo of Mohammed Shami and Jasprit Bumrah, India made an emphatic start, creating pressure on the Australian batting lineup.
Jasprit Bumrah, in particular, exhibited exceptional skill with his ability to generate significant movement off the pitch. The bowlers, fueled by determination, are keen on maintaining a tight line to prevent easy scoring opportunities for the opposition.
Despite India's commendable efforts, the road to defending 240 is laden with challenges, and the bowlers are aware of the need to minimize any lapses. The Australian team, on the other hand, showcased their bowling prowess earlier in the match, with Mitchell Starc taking three crucial wickets, and Pat Cummins and Josh Hazlewood contributing two wickets each.
The contest between the Indian bowlers and the Australian batsmen promises to be a thrilling battle, with both teams vying for the coveted World Cup title. The match's unfolding dynamics have captivated cricket enthusiasts globally, adding an extra layer of excitement to this high-stakes encounter. Stay tuned for more updates as the action unfolds in this gripping World Cup Final.
Also Read: Harsh Goenka's viral post on WC Final: Wealthy Indians evade ticket costs
Last Updated Nov 19, 2023, 7:08 PM IST