Heartbreak for a billion Indians as centurion Travis Head fires Australia to lift 6th World Cup title
In a riveting Cricket World Cup 2023 final, Australia showcased an exceptional all-round performance to lift their sixth title, leaving a billion hearts in India shattered.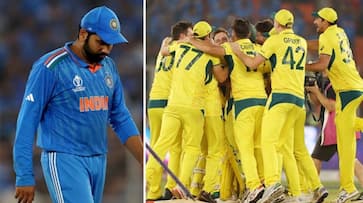 A sense of disappointment and heartbreak engulfed a billion-strong nation as Australia, propelled by an exceptional all-round performance, clinched their sixth World Cup title. The dream of millions of passionate cricket enthusiasts in India was shattered as Australia showcased dominance in a nail-biting encounter. The heartbreak echoed across the nation as hopes for India's third World Cup title were dashed by the relentless prowess of the Australian team.
With Australia's backs against the wall, Travis Head emerged as the saviour to steer the side to a victory against India in the Cricket World Cup final. Head struck his fifth ODI century from 95 balls at the Narendra Modi Stadium in Ahmedabad on Sunday.
Australia's triumph, their sixth in the history of the Cricket World Cup, stands testament to their resilience and cricketing prowess. The collective effort of their players, both with the bat and ball, proved too formidable for India to overcome. The disappointment felt by Indian fans reverberates in the wake of an intense battle on the cricketing field, where emotions ran high, and the quest for glory came to a heart-wrenching end.
The Australian team's stellar performance, led by skipper Pat Cummins and bolstered by standout contributions from key players, showcased their ability to thrive under pressure.
Also Read: IND vs AUS WC Final: KL Rahul becomes 1st Indian player to script this massive World Cup feat
Earlier in the afternoon, Australia won the toss and chose to bowl without hesitation. Mitchell Starc struck early, dismissing Shubman Gill in the 5th over, while Indian skipper Rohit Sharma provided a solid start, scoring 47 off 31 balls. However, Glenn Maxwell claimed his wicket in the ultimate over of the first Powerplay, Travis Head taking a stunning catch under pressure. In the next over, Cummins dismissed the in-form Shreyas Iyer, leaving India struggling at 81/3.
Virat Kohli and KL Rahul absorbed the pressure, adding 67 runs for the 4th wicket. Despite Kohli's fifty (54 off 63) and a total of 765 runs in the tournament, Cummins dismissed him in the 29th over. India promoted Ravindra Jadeja (9 off 22) ahead of Suryakumar Yadav, but it didn't pay off as Josh Hazlewood took care of him. KL Rahul stood tall, scoring a fifty at a slower pace (66 off 107 balls, hitting a lone boundary).
The Australians maintained relentless pressure, not allowing India to break free. Suryakumar and the remaining batters succumbed to the spirited Aussie bowlers as India was bowled out for 240 in 50 overs. Mitchell Starc was the most successful bowler (3/55), with Cummins (2/34), Hazlewood (2/60), and spinners Zampa (1/44) and Maxwell (1/35) contributing to restrict the Men in Blue.
The run-chase for Australia began chaotically, with Virat Kohli and Shubman Gill in the slip cordon witnessing the outside edge of David Warner flying between them in the very first ball delivered by Jasprit Bumrah. Australia quickly raced to 16, and in the second over by Mohammed Shami, Warner edged another one, safely grabbed by Kohli at first slip, awakening the Sea of Blue at the Narendra Modi Stadium.
Also Read: IND vs AUS WC Final: KL Rahul becomes 1st Indian player to script this massive World Cup feat
Last Updated Nov 19, 2023, 9:43 PM IST