Explained: Why Angelo Mathews was dismissed before facing a ball
Angelo Mathews faced a timed-out dismissal during the Sri Lanka versus Bangladesh World Cup match. Mathews, who was batting at No.6, found himself in an unusual situation due to an issue with his helmet, which led to a "timed-out" appeal by the Bangladesh team.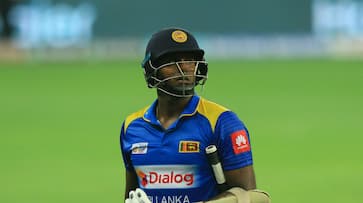 During the Sri Lanka vs Bangladesh match in Delhi on Monday, Angelo Mathews experienced a first in international cricket. Mathews, batting at No.6 following Sadeera Samarawickrama's dismissal, had an unprecedented timed-out dismissal without even facing a single delivery.
The seasoned Sri Lankan all-rounder, who entered the World Cup as a replacement player, found himself in a perplexing situation when an issue with his helmet required attention. This unusual incident unfolded during the 25th over of Sri Lanka's innings, just after Shakib Al Hasan had dismissed Samarawickrama, caught by Mahmudullah near the boundary.
Mathews took his time making his way to the crease, and when he was about to take guard, he encountered trouble with his helmet as the strap broke. While he signaled to the dressing room for a replacement helmet, Shakib and the entire Bangladesh team made a "timed out" appeal. The umpires decided to uphold the appeal, much to Mathews' disappointment.
Although Mathews engaged in a deep discussion with both the Bangladesh team and the umpires, the appeal remained intact, and he had no choice but to leave the field disheartened. This marked an unprecedented turn of events in international cricket.
The ICC Men's Cricket World Cup 2023 playing conditions pertaining to "timed out" dismissals reads thus:
40.1.1 After the fall of a wicket or the retirement of a batter, the incoming batter must, unless Time has been called, be ready to receive the ball, or for the other batter to be ready to receive the next ball within 2 minutes of the dismissal or retirement. If this requirement is not met, the incoming batter will be out, Timed out.
With Mathews taking more than two minutes to face his first ball, he had to be sent back to the pavilion following the appeal. 
It was the first time in international cricket, men's or women's, that a batter was dismissed according to the "timed out" law.
Also Read: 'Maintaining emotional composure is a vital aspect of my performance' says Virat Kohli
Last Updated Nov 6, 2023, 5:12 PM IST