BBL 2022-23: Watch Adam Zampa attempts 'Mankading' Tom Rogers, only to be turned down by TV umpire
BBL 2022-23: Adam Zampa of Melbourne Stars attempts to run out Tom Rogers of the Melbourne Renegades for backing up. However, his appeal was turned down by the TV umpire. Watch and judge for yourself.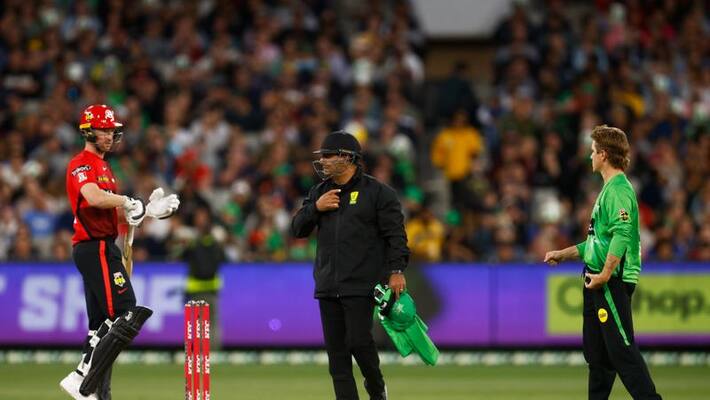 Melbourne Stars skipper-cum-leg-spinner Adam Zampa inflict a run out versus Melbourne Renegades batter Tom Rogers during their 2022-23 Big Bash League (BBL) clash at the Melbourne Cricket Ground (MCG) on Tuesday. However, the former himself left startled by the television (TV) umpire, adding to the embarrassment of the spinner. As Zampa ended his follow-through and nearly released the ball to on-strike batter Mackenzie Harvey, he turned back to dislodge Rogers' bails, signalling the umpire to give the marching orders. However, despite Zampa's call, the umpire inferred with the bowler that his arm was past the 'vertical' point where the ball is considered bowled.
After that, it was checked with the TV umpire, who returned with the same judgement, thus handing Rogers salvation. As the second-last ball of the Renegades' innings formed a buzz in the MCG mass, Zampa was left bemused as he walked back to his bowling mark, reports PTI. The MCC's Law 41.16 on 'Mankading' states that a bowler can attempt to run the non-striker out if he leaves his crease early.
ALSO READ: RISHABH PANT CAR ACCIDENT: 'HOPEFULLY, HE'LL RECOVER SOON AND BE BACK ON THE PATH' - SOURAV GANGULY
"If the non-striker is out of his/her ground from the moment the ball comes into play to the instant when the bowler would normally have been expected to release the ball, the bowler is permitted to attempt to run him/her out. Whether the attempt is successful or not, the ball shall not count as one in the over. If the bowler fails in an attempt to run out the non-striker, the umpire shall call and signal a 'dead ball' as soon as possible," the law further states.
In Zampa's scenario, he had completed his bowling action but did not let go of the ball. Rogers had hardly come out of his crease, but he wasn't monitoring Zampa's hand either. Nevertheless, the TV umpire handed the decision in the batter's favour, which was the right call.
Last Updated Jan 3, 2023, 6:22 PM IST