Nikhil Kamath commits to donate most of his wealth, becomes youngest contributor to 'The Giving Pledge'
Zerodha co-founder Nikhil Kamath has joined The Giving Pledge, founded by Warren Buffett, Melinda French Gates, and Bill Gates in 2010. Nikhil Kamath is only the fourth Indian after Azim Premji, Kiran Mazumdar-Shaw, and Rohini and Nandan Nilekani to join the community.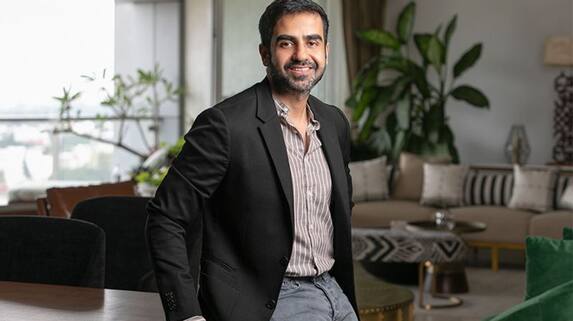 Zerodha co-founder Nikhil Kamath, who is often talked about for his witty posts on LinkedIn, has once again made headlines for his dedication to the cause. Kamath recently joined an organisation called The Giving Pledge.
For those wondering what a foundation is, the Giving Pledge encourages wealthy individuals and their families to donate at least half of their wealth to charity for the rest of their lives or of their own free will. It was founded in 2010 by Warren Buffett and Bill Gates. Kamath became the fourth Indian to join the community, after Azim Premji, Kiran Mazumdar Shaw, Rohini and Nandan Nilekani.
Also Read | Linda Yaccarino takes over as new Twitter CEO, hires former NBCUniversal executive
In his statement, Kamath expressed his gratitude for participating in The Giving Pledge and referenced his own commitment to making a positive impact on the world. Although relatively young, he believes in the organisation's mission to build a more just society in line with his values ​​and aspirations. 
"As a young philanthropist, I am writing to express my gratitude whilst joining the Giving Pledge. Despite my age, I am committed to positively impacting the world and believe that the foundation's mission of creating a more equitable society aligns with my values and aspirations," Kamath wrote in a letter.
Also Read | Infosys cut CEO Salil Parekh's pay by 21% in 2022-23: Report
Kamath has been actively involved in the stock market for nearly 20 years. He started working full-time at the age of 17 and has built up his investment experience by spending a lot of time analysing opportunities in both the public and private markets.
Kamath intends to support causes like climate change, energy, education, and health with his estimated $3.45 billion in wealth. Besides founding Zerodha, he has also established other ventures such as Gruhas, a platform for private investments, the hedge fund True Beacon, which manages the wealth of ultra high net worth individuals in India.  He has also ventured into the fintech incubator Rainmatter, and the Rainmatter Foundation, which supports non-profit organisations focused on climate-related issues.
Also Read | TCS warns employees of disciplinary action if work from office goals not met
Last Updated Jun 6, 2023, 6:45 PM IST