Karnataka govt to increase property registration guideline rates by 25-30% from 1st October; See details
Karnataka's Revenue Minister announces a 25-30% increase in property registration guideline rates starting October 1st, aimed at boosting government revenue by approximately Rs 2,000 crores annually. The adjustment addresses disparities and will be gradually implemented across districts, with the option for individuals to file objections. Successful property registration numbers under the Cauvery-2 program are also noted.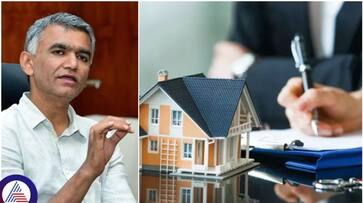 Karnataka's Revenue Minister, Krishna Byregowda, has announced a revision of property registration guideline rates starting from October 1st this year. These rates will increase by approximately 25% to 30% on average. This decision, aimed at increasing government revenue by around Rs 2,000 crores annually, stated the Minister during a press conference at Vikas Soudha.
Typically, the guideline rates are revised annually, but they have remained unchanged for the past five years. This has led to unfair situations for land sellers and farmers and the potential for illicit transactions with black money. To address these issues, Byregowda confirmed that the new guideline rates will take effect from the beginning of the year.

Renting a flat in Bengaluru proved expensive for techie, loses Rs 64000 to scammer posing as owner
 
The initial implementation of the revised rates will begin in Bengaluru, with gradual adoption by sub-committees in other districts. The revised guideline rates will increase by 25% to 30%. To maintain alignment between guidelines and market rates, officials are tasked with rectifying disparities. Byregowda emphasized that this adjustment corrects disparities rather than being just a guideline rate revision.
Individuals with concerns or disputes about the guideline rate revision can file objections, which will be considered before implementing the new rates. Areas where market prices closely match guideline rates will see a 10% increase, while areas with market rates 200 times higher than guideline rates will experience a 20% to 25% increase.

Bengaluru techie takes Rs 2.7 lakh loan to fix potholes for govt's indifference
In Electronic City, Bengaluru, market rates are now 500 times higher than guideline rates. Land along National Highways, with guideline rates between Rs. 5 to 10 lakhs, may have market prices exceeding Rs. 10 crores, leading to a 50% increase in guideline rates. In cases where guideline rates exceed market rates, authorities will further reduce guideline rates in those areas.
Byregowda also noted the successful implementation of the Cauvery-2 program, resulting in 10,000 to 13,000 property registrations daily and a significant increase in government revenue, with 800 crores already recorded in the current month
Last Updated Sep 20, 2023, 2:53 PM IST