'It was an honour...' Elon Musk apologises for not meeting Piyush Goyal at Tesla factory
Billionaire Elon Musk thanked Union Commerce Minister Piyush Goyal who visited the Tesla facility in California as the two sides look to advance the electric carmaker's plan to enter the South Asian market. The Tesla boss also apologised for not being able to meet the minister as he was unwell.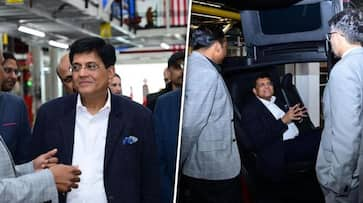 Tesla CEO Elon Musk expressed gratitude to Union Commerce Minister Piyush Goyal for visiting the Tesla facility in California and apologised for not meeting him. In a post published earlier in the day on the social networking site X, Piyush Goyal described his tour of Tesla's advanced manufacturing plant located in Fremont, California. Goyal spoke with Indian engineers and professionals when he was there.
"Visited Tesla's state-of-the-art manufacturing facility at Fremont, California. Extremely delighted to see talented Indian engineers and finance professionals working at senior positions and contributing to Tesla's remarkable journey to transform mobility," he said.
Also Read | WhatsApp rolls out new voice chat feature for large groups on Android, iOS
Goyal said that the firm is headed towards tripling component imports from India and expressed his pride at the rising significance of Indian auto component suppliers in the Tesla EV supply chain. The minister, however, could not meet with Tesla CEO Elon Musk as he was unwell and could not travel to California. "Missed Elon Musk's magnetic presence and I wish him a speedy recovery," Goyal wrote.
Musk, in response to Goyal's post on X (formerly Twitter), said, "It was an honor to have you visit Tesla! My apologies for not being able to travel to California today, but I look forward to meeting at a future date."
Goyal's visit represents a noteworthy advancement in light of rumours that India is thinking of reducing customs duties for Tesla's regional facility. Tesla is to acquire over $1.9 billion worth of components from India this year, up from $1 billion in 2022, according to a September statement made by Commerce Minister Piyush Goyal. It's important to remember that Tesla is aggressively looking at opening a plant in India with the goal of producing a $24,000 vehicle there.
Also Read | Apple to introduce iPad Air with a larger 12.9-inch display in 2024: Report
Last Updated Nov 14, 2023, 1:52 PM IST