Mahindra Thar gets a new golden colour; could be pocket-friendly 4x2 version
Mahindra Thar has been spotted in a never-seen-before golden paint scheme which indicates it could be the highly affordable 4x2 variants of the SUV. Other colour options of the Thar include the Aqua Marine, Napoli Black, Red Rage, and Galaxy Grey shades.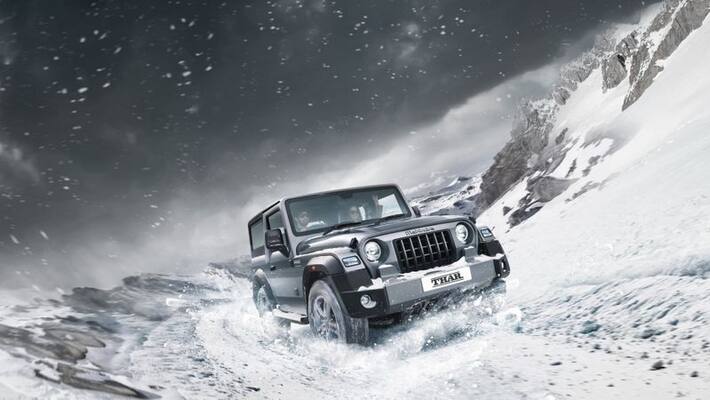 Mahindra is all set to launch the Thar 4×2 in the Indian market. In the next weeks, the locally produced automaker will release the Thar in an affordable variant. The 2WD Thar was photographed with a fresh golden exterior paint before its eagerly awaited introduction. Blazing Bronze is the name Mahindra has given to this golden colour, which suits Thar's overall appearance.
Introducing new shades with the rear-wheel drive version of the Thar seems to be part of Mahindra's strategy to differentiate the new variant from the more expensive 4×4 models of the SUV. The Thar is also available in the colours Aqua Marine, Napoli Black, Red Rage, and Galaxy Grey.
Also Read | Auto Expo 2023: Mahindra XUV 400 electric SUV likely to debut in India
Mahindra is likely to set the 4x2 Thar's pricing rather aggressively, and according to some reports, the new model might be about Rs 2 lakh less expensive than the 4x4 Thar.
The infotainment system and other interior amenities of the Mahindra Thar 4x2 are identical to those of the 4x4 model. The selection lever seen on the 4x4 Thar is replaced in the 4x2 version with a tiny utility slot. In addition, the 4x2 Thar has a "Rough Road" option in place of the 4x4 Thar's Off-Road mode.
The rear-wheel drive Thar now uses Mahindra's 1.5-liter turbodiesel engine from the XUV300. Despite being smaller than the 2.2-litre diesel engine included with the 4x4 Thar, this engine has a lot of power. A six-speed manual transmission will be paired with the 1.5-liter turbo diesel, which produces 115 horsepower and 300 Nm of torque.
Also Read | Auto Expo 2023: Fifth-Gen Lexus RX SUV teased ahead of India debut
According to rumours, Mahindra will continue to offer the 4x2 Thar in petrol with the 2.0-liter engine. This six-speed torque converter automatic transmission is mated to a 150bhp and 300Nm 150bhp gasoline engine. Around the time of the 2023 Auto Expo, the business could announce the cost of the new 4x2 RWD Thar.
Also Read | Auto Expo 2023: Next-gen Kia Carnival, Sorento to be showcased in January
Last Updated Jan 4, 2023, 3:17 PM IST