Citroen e-C3 vs Tata Tiago.ev: Know which electric car is better?
The Tata Tiago.ev will soon have a new rival in the form of the Citroen e-C3, which will be the third model of the French carmaker in India. Check out the comparison between Tata Tiago.ev and Citroen e-C3 in terms of range, battery, price and more.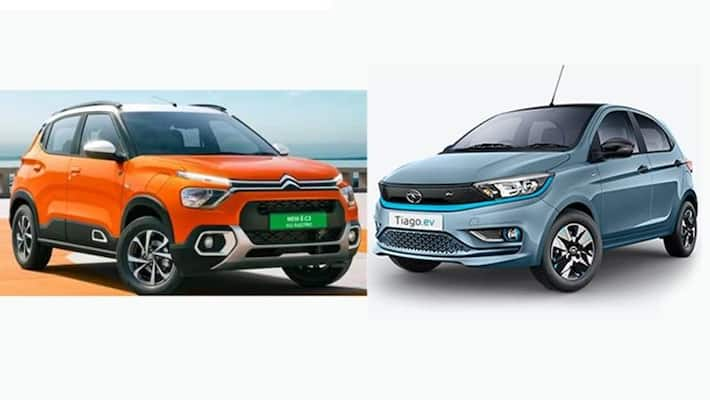 The Tata Tiago.ev is one vehicle that instantly comes to mind when discussing inexpensive electric cars (EVs) in India. Its popularity may be determined by the fact that on October 10 it received over 10,000 reservations in a single day. While the Tiago's ICE model has consistently been well-liked by the general public, the electric version of the hatchback is also gaining popularity. The Citroen e-C3, the French automaker's third model to be sold in India, will soon be a new competitor for the Tata Tiago.ev.
Currently, the Tiago.ev costs between Rs. 8.49 lakh and Rs. 11.79 lakh (ex-showroom). Although they were just for the next 10,000 clients when Tiago.ev received the first 10,000 reservations, the costs may shortly rise. The e-C3 is anticipated to cost between Rs. 8 lakh and Rs. 11 lakh (ex-showroom).
Also Read | Things you need to know about 2023 Hyundai Grand i10 Nios Facelift
The claimed range on a single charge for the Tiago.ev is 250km with 19.2 kWh battery pack, and 315 km wth 24 kWh battery pack. With 320 kilometres on a single charge, the e-C3 claims to have a little superior range.
The Tiago.ev can be charged from 10% to 100% from any 15A plug point in 6 hours and 54 minutes when equipped with a 19.2kWh battery pack. The charging period for the 24kWh battery pack type is 8 hours and 42 minutes. Using a 15A plug point, the e-C3 can charge from 10% to 100% in around 10 hours and 30 minutes.
Also Read | Tata Nexon EV Max vs Mahindra XUV 400 electric SUV: Which is better?
Both electric vehicles (EVs) can charge from 10% to 80% in about the same amount of time using a DC fast charger. For the Tiago.ev, it takes 58 minutes, while the e-C3 needs 57.
The 0-60kmph acceleration time for the Tiago.ev with a 61PS/110Nm motor and 19.2kWh battery pack is 6.2 seconds. For the model equipped with a 24kWh battery pack and a motor rated at 75PS/114Nm, it is slightly slower at 5.7 seconds. The e-C3 has a 0-60kmph acceleration time of 6.8 seconds.
Also Read | Tata Nexon EV prices reduced, range of Max variants increased to 453km
Last Updated Jan 20, 2023, 8:52 PM IST