Bentley Bentayga EWB launched in India, prices start at Rs 6 crore
The Bentley Bentayga EWB continues with the traditional styling cues of the luxury SUV, but it does get an increment in the wheelbase, which is apparent around the rear door. The leather-wrapped dashboard features a large touchscreen infotainment unit, and the front seats are 20-way adjustable and come with heating and ventilation functions.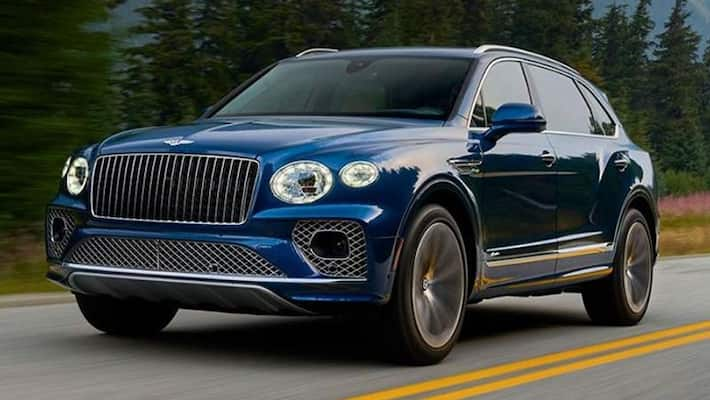 The Bentley Bentayga EWB variant is now available in India, with pricing beginning at Rs 6 crore (ex-showroom, Delhi). The SUV's manufacturing started in October after the model's unveiling in May 2022.
Regarding the new model, the Bentley Bentayga Extended Wheel Base (EWB) features a 180mm increase in wheelbase length over the previous model. While the total length has become longer to 5,322mm, the wheelbase has gone up from 2,995mm to 3,175mm. The increase in size has given second-row passengers greater room.
Also Read | Citroen e-C3 vs Tata Tiago.ev: Know which electric car is better?
The Bentayga EWB's standout features include what the manufacturer dubs "Airline seats," which are the most sophisticated seats ever installed in a vehicle. There are 22 different methods to tweak the auto-climate sensing system, which tracks 177 distinct pressure variations throughout six zones.The business seat function where the seat moves into its most upright position, thereby making it convenient to work on the move.  A leather footrest extends from the rear of the front seat when the seat reclines to a maximum of 40 degrees in the relax mode, which is also available.
Other features include heated centre armrest and rear doors, power-closing rear doors, and all-wheel steering on the Bentayga extended wheelbase. Three sitting options are available, including the iconic 4+1 seating arrangement with 16 adjustment options, heating, ventilation, and five different massage programmes.
Also Read | Things you need to know about 2023 Hyundai Grand i10 Nios Facelift
To ensure that rear occupants do not have to put much effort to close/open doors, they are powered. The Bentayga EWB offers 180 mm extra legroom over its standard counterpart.
A 4.0-liter twin-turbo V8 engine with 542 horsepower and 770 Nm of torque powers the Bentayga EWB. The car can go from 0-100kmph in 4.6 seconds when coupled with an eight-speed automatic transmission.
Also Read | Tata Nexon EV Max vs Mahindra XUV 400 electric SUV: Which is better?
Last Updated Jan 21, 2023, 5:14 PM IST