1,493 hand grenades, 760 RPGs, 427 explosive belts & more: Israel exposes Hamas' chilling arsenal (WATCH)
Israel Defense Forces reveal a chilling cache of weapons found on Hamas terrorists, highlighting the imminent threat to civilians and the ongoing challenges in maintaining security.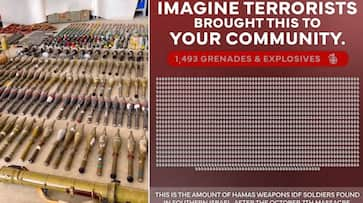 In a shocking revelation, raw footage from the Israel Defense Forces (IDF) has exposed a vast cache of weapons found in the possession of Hamas terrorists on October 7th. These weapons paint a grim picture of the scale of destruction they could have caused, highlighting the constant threats faced by Israeli civilians.
Also read: 'Light a Diya of hope' : Israel's envoy to India ahead of Diwali 2023
The list of weapons recovered from the Hamas terrorists is alarming:
1,493 Hand Grenades and Explosives: The presence of such a large number of hand grenades and explosives signifies a blatant disregard for human life and a sinister intent to inflict harm.

760 RPGs (Rocket-Propelled Grenades): Rocket-propelled grenades are highly destructive weapons capable of causing immense damage and casualties.

427 Explosive Belts: The presence of explosive belts underscores the readiness of these terrorists to engage in suicide bombings, targeting innocent civilians.

375 Firearms: Firearms in the hands of terrorists pose a severe threat to both civilians and security forces.

106 Rockets and Missiles: The existence of rockets and missiles in their arsenal highlights their capability to launch indiscriminate attacks over long distances, putting lives at risk.
These weapons, discovered on October 7th, serve as a chilling reminder of the lengths to which terrorist organizations like Hamas are willing to go to wreak havoc and cause loss of life. Such weaponry is not intended for self-defense but is designed to inflict terror and devastation upon Israeli civilians.
The statistics speak for themselves - over 1,400 Israeli civilians could have fallen victim to these weapons had they been deployed as intended by the terrorists. The IDF's efforts in uncovering and neutralizing these threats are essential in safeguarding the lives and security of Israeli citizens.
The discovery of these weapons sheds light on the ongoing challenges faced by the IDF and the region as a whole. It underscores the importance of maintaining vigilance and security measures to protect innocent lives in the face of such grave threats posed by terrorist organizations like Hamas.
Also read: Eerie! Drone footage of hundreds of scorched cars moved from Nova music festival massacre site (WATCH)
Last Updated Nov 8, 2023, 4:27 PM IST