Pregnant Atlanta woman crashes her car, steals TV news van with pregnant reporter inside
A woman stole a TV news van with a reporter inside and later crashed it. The woman has been arrested by Atlanta Police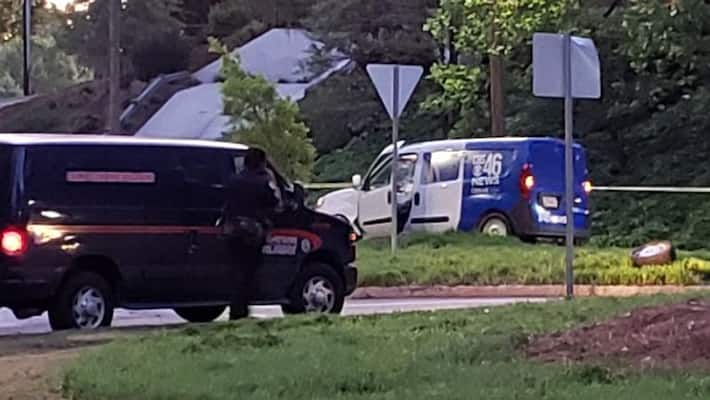 Atlanta: A pregnant woman stole a TV news van with a reporter inside and later crashed it, Atlanta Police have confirmed. The incident happened on Tuesday (April 14) morning in northwest Atlanta.
According to local media reports, the woman has been arrested. The woman first crashed her car into an apartment complex and the CBS46 TV news crew had stopped its van to cover the crash.
Also read: 70 coronavirus vaccines under development, says WHO
The driver of the van had got out leaving the van running. A photographer too had alighted from the van. Then, the woman drove off with a reporter still inside. She was editing a video at the back of the van.
The 38-year-old Seniqua Lunsford drove off the van. The reporter Iyani Hughes, who too was pregnant, screamed for help.
Also read: Amazon to hire 75,000 more people during coronavirus crisis
Police officers, who were at the original crash site after getting a call at 5.30 am, followed the van which later crashed. The woman was arrested and police said she will be charged for kidnapping. The reporter was unhurt but the suspect had injured her arm, police said.
According to police, the people at the crash scene told them that the suspect was acting "strangely". They did not know whether she was emotionally disturbed, or intoxicated, or on drugs, police said.
Police officer Steve Avery said, "The reporter inside tried to make the woman stop, and pull over. The suspect wouldn't do that. So she did the smart thing, got into her seat and put her seat belt on. The vehicle continued to this location where it crashed."
"The suspect and the victim both are women, and coincidentally they both are pregnant," he added.
Atlanta Police said, "The van fled the area and crashed into a traffic circle near Peachtree Circle and The Prado NE. The Ms Lunsford got out of the vehicle and was arrested by responding officers. During the investigation officers learned that both the victim and the suspect were pregnant. The reporter was not injured but was taken to the hospital for examination. The suspect suffered injury to her arm and was taken to Grady Detention."
Last Updated Apr 15, 2020, 1:50 PM IST