Nepal plane crash: Did you know Yeti Airlines aircraft was previously owned by Kingfisher Airlines?
According to Cirium Fleets data, Vijay Mallya's now-defunct Kingfisher Airlines previously used the Nepalese passenger plane that crashed on Sunday into a river canyon with 72 people aboard. The number "72" in its name is derived from the aircraft's typical standard seating capacity of 72 passengers.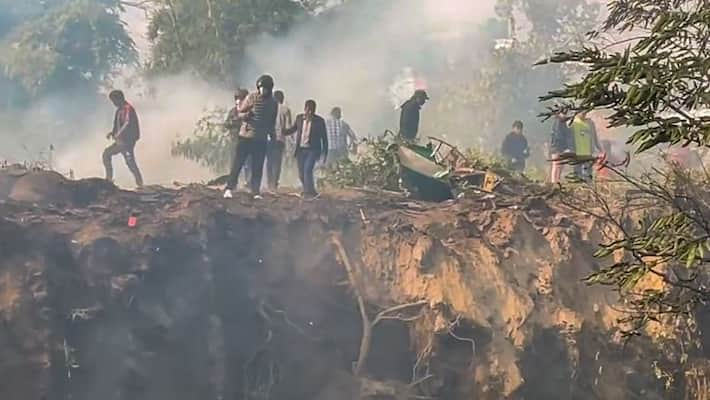 The Nepalese passenger plane, which crashed into a river gorge on Sunday with 72 people onboard, was previously used by the now-defunct Kingfisher Airlines owned by liquor baron Vijay Mallya, according to Cirium Fleets data.
According to the Civil Aviation Authority of Nepal, Yeti Airlines' 9N-ANC ATR-72 plane crashed on the bank of the Seti River between the old airport and the new airport in Pokhara minutes before landing on Sunday at 10:33 a.m. from Kathmandu's Tribhuvan International Airport.
In Nepal's deadliest aviation disasters in more than three decades, officials anticipated the deaths of at least 68 passengers, including five Indians.
Also Read | Nepal plane crash: A priest's family in Kerala mourns death of friends; check details
The 9N-ANC aircraft was delivered to the now-defunct Kingfisher Airlines in 2007 according to Cirium Fleets data, which keeps track of the fleet, equipment, and cost of aircraft. It was purchased by Thailand's Nok Air six years later, then in 2019, it was sold to Yeti Airlines of Nepal, according to the statement.
According to Cirium Fleets statistics, KF Turbo Leasing owned the aircraft, while Investec Bank served as the lessor. An ATR-72 was also the aeroplane used by the tragic Yeti Airlines. In Nepal's troubled aviation history, it was the first time such a type had a mishap.
Also Read | 'Being heard in High Court': SC refuses to entertain plea to declare Joshimath crisis as a national disaster
ATR, a joint venture between the Italian aviation giant Aeritalia and the French aerospace corporation Aerospatiale, developed the twin-engine turboprop ATR-72 short-haul regional airliner in France and Italy.
The word "72" comes from the number of people that can typically fit in the aircraft's basic seating, which is 72. ATR-72 aircraft are now solely used by Buddha Air and Yeti Airlines in Nepal.
According to pilots and an expert in aviation accident investigation, handling errors, system failures, or pilot weariness might have contributed to the catastrophic jet crash in Nepal on Sunday that claimed at least 68 lives. They claimed that only after a thorough inquiry would the precise causes of the disaster be understood.
Also Read | Centre owes Bengal Rs 6,000 crore for MGNREGA scheme: CM Mamata Banerjee
(With PTI inputs)
Last Updated Jan 16, 2023, 4:04 PM IST