Israeli forces on standby at Kfaza Aza near Gaza border awaiting orders
Asianet Suvarna news editor Ajit Hanamakkanavar reports from Kfaza Aza near Gaza border. The Israeli forces have been positioned for retaliation on Hamas militants with war tankers and army, waiting for official orders from the Israeli government. The Hamas militants had entered Israel through Kfaza Aza on October 7, 2023, creating a massacre by killing over 100 people with Swords, machetes, RPGs and knives.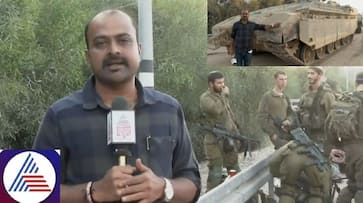 Reporting from the tense Gaza border, Asianet Suvarna News editor Ajit Hanamakkanavar reveals that the Israeli military is on high alert, awaiting official orders to enter Gaza. This situation follows a violent incursion by Hamas militants on October 7, where they killed more than 100 people with RPGs, guns and machetes.
In the aftermath of a violent attack by Hamas militants on October 7, the Israeli government has taken measures to address the situation. Signs of the recent conflict are still visible, with live bullets strewn across the roads, and Israeli tanks stand ready, covered in dust, awaiting potential deployment.

Israel-Hamas war: IDF reservists prepare for offensive operations amid mobilisation efforts (WATCH)
The Israeli military has adopted a multi-pronged approach to be prepared for various scenarios. Millions of soldiers are stationed on foot, and air attacks, including the use of Apache helicopters, have been conducted along the Gaza Strip border. However, an official order for a ground invasion of Gaza has not been issued by the Israeli government.

'Beginning of the war is an intelligence error...' Israeli military intel chief owns up failure
One critical aspect of Israel's approach is the safe release of hostages held by Hamas militants. The decision to enter Gaza via land is contingent on the release of these hostages.
The situation at the Gaza border remains tense, and the world watches closely for any further developments, with Israeli forces ready to act upon official orders.
Last Updated Oct 24, 2023, 3:48 PM IST