Israel-Palestine conflict: Here's how a 9-day-old infant survived brutal Hamas attack at Kibbutz Nirim
A British family narrowly survived a Hamas terrorist attack near the Gaza border during Shabbat rituals. They sought refuge in a safe room when warned of the danger. The terrorists attempted to break in, set the house on fire, and locked them in. The family placed their 9-day-old baby by a window for air and was eventually rescued by the Israeli army after enduring 10 days of hiding.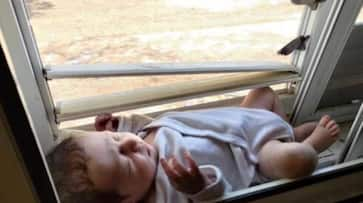 A shocking story of survival has come out where a British family found themselves in the midst of a Hamas terrorist attack during the rituals of Holy Shabbat on October 7. This terrifying trial, which included a 9-day-old infant, ended with the family narrowly escaping a nightmare in a kibbutz near the Gaza border.
The attack, carried out by Hamas militants and described as one of the worst modern terror incidents, unfolded with extreme brutality as the terrorists entered Israel and targeted homes within the kibbutz. Tragically, lives were lost, and there were disturbing reports of children's throats being cut.

Israeli forces on standby at Kfaza Aza near Gaza border awaiting orders
The British family's test began when they received a warning about the looming danger posed by the approaching Hamas militants. They were advised to seek shelter in a bunker or a secure room. Without hesitation, the family fled to the innermost safe locker room in their home.
When the terrorists reached their residence, they attempted to break into the safe room but were unsuccessful. Being frustrated, the militants set fire to the house and locked it from the outside, with the sinister intention of suffocating the occupants with smoke, leaving them with no chance of survival.

Israel-Hamas War Exclusive: 'Israelis were slaughtered... this is a crime against humanity'
Inside the locked room were the parents and their 9-day-old baby. The parents, faced with a dire situation, made the courageous decision to place the baby by a window in the adjacent room to ensure the child had a chance to breathe amidst the encroaching flames. They also sent a distressing message to their family, seeking protection and assistance.
Outside, the terror attack continued for nearly six hours, with militants firing shots nearby. Remarkably, the 9-day-old baby in the adjacent room went unnoticed by the terrorists, while the family endured the agony of smoke inhalation within the locker room. Eventually, they were rescued by the Israeli army, ending their 10 days of hiding.
Last Updated Oct 25, 2023, 10:54 AM IST