Israel's intelligence-led war against Hamas: 12,000 targets destroyed, 1,200 terrorists killed in Gaza (WATCH)
Amid the ongoing Israel-Hamas war, the Israel Defense Forces (IDF) on Thursday stated that 12,000 targets have been destroyed in the Gaza strip and 1,200 terrorists have been eliminated so far.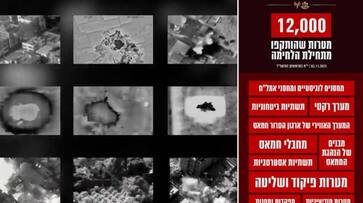 Amidst the ongoing conflict in the Gaza Strip against Palestinian terrorist organisation Hamas, the Israel Defense Forces (IDF) have implemented a robust and meticulously orchestrated strategy focusing on precision targeting. With over 12,000 targets attacked since the commencement of the conflict on October 7, the IDF's intelligence-driven operations have showcased a formidable approach in eliminating approximately 1,200 terrorist targets.
Also read: Annihilation of Israel is Hamas' ultimate goal; vows to repeat October 7 massacre multiple times (WATCH)
At the forefront of this precision operation against Hamas is the Directorate of Targets within the Intelligence Division. This specialized unit has been instrumental in producing over a thousand targets in real-time, a feat achieved through a unique collaboration between various intelligence bodies including the Air Force's Intelligence Division, the Navy's Intelligence Command, and the Intelligence Center of the Southern Command.
According to the IDF, one of the remarkable features of this operation has been the amalgamation of regular and reservist soldiers working across diverse technological roles within the Directorate. Their expertise spans deciphering, cyber capabilities, and extensive research, all geared towards facilitating the large-scale production of targets.
A significant milestone in the ongoing Israel-Hamas war has been the real-time dissemination of intelligence and updated operational plans to ground forces operating within the Gaza Strip. For the first time, these troops are receiving crucial intelligence information and targets designed in accordance with the latest operational strategies. According to the IDF, the seamless flow of these targets to the fire center in the Southern Command has facilitated hundreds of real-time attacks, a coordinated effort between the ground forces, Air Force, and Navy.
Also read: Israel releases proof of Hamas stealing fuel from Gaza civilians and hospitals (LISTEN)
IDF stated the effectiveness of this precision targeting strategy was further amplified by the sophisticated technological systems in place. Utilizing advanced systems, including artificial intelligence, the Directorate of Targets can swiftly and accurately produce reliable targets, contributing to the successful execution of military operations.
The integration of technology, intelligence, and operational precision has allowed the IDF to not only identify but also neutralize thousands of terrorist targets in the Gaza Strip. However, amid the strategic successes, the IDF remains vigilant about the humanitarian implications of its actions, striving to strike a delicate balance between security imperatives and humanitarian considerations.
Last Updated Nov 2, 2023, 3:10 PM IST