Former British PM David Cameron is now UK's new foreign secretary
Former British Prime Minister David Cameron returned to government as UK Foreign Secretary and will replace James Cleverly who was appointed Home Secretary after Suella Braverman was sacked.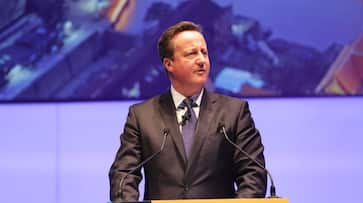 The UK Prime Minister's Office announced on Monday that former British Prime Minister David Cameron has been named the nation's new Secretary of State for Foreign, Commonwealth, and Development Affairs. Cameron previously served as the British PM from 2010 to 2016. He was also the Leader of the Conservative Party from 2005 to 2016.
Cameron was given the foreign office after Foreign Secretary James Cleverly replaced Suella Braverman as the country's new Home Secretary.   The Conservative Party said that PM Rishi Sunak's reorganisation "strengthens his team in government to deliver long-term decisions for a brighter future" in a social media post.
Also Read | 'Goal is clear, my job is to keep...' James Cleverly after being appointed as new UK home secretary
Serving as the nation's foreign secretary, Cameron has made an unexpected comeback to politics. Following the Brexit referendum in 2016, Cameron resigned from government and took a peerage to join PM Sunak's cabinet.
Also Read | UK PM Rishi Sunak fires Indian-origin Home Secretary Suella Braverman over opinion piece
On his appointment, David Cameron said, "Though I may have disagreed with some individual decisions, it is clear to me that Rishi Sunak is a strong and capable prime minister." The ex-PM said that he has "gladly accepted" the post saying that the UK is "facing a daunting set of international challenges, including the war in Ukraine and the crisis in the Middle East.
His return coincides with a larger reorganisation that saw Suella Braverman removed from her position as home secretary following her criticism of the police's conduct of a pro-Palestinian demonstration. Sunak views Cameron's return to politics as a daring step, and the Conservative party's right wing and moderate wings have both responded to it.
Last Updated Nov 13, 2023, 5:52 PM IST