Eerie! Drone footage of hundreds of scorched cars moved from Nova music festival massacre site (WATCH)
A drone footage revealing the devastation after Hamas attack on the Nova music festival near Gaza on October 7, showcases hundreds of scorched and damaged cars moved from the massacre site by Israel.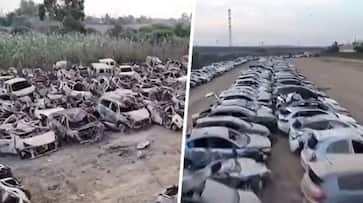 In a stark revelation, a drone footage showcasing the aftermath of a devastating attack on the Nova music festival, which took place near Kibbutz Be'eri, a mere five kilometers away from the Gaza Strip, has gone viral on social media. The festival, once a celebration of music and culture, turned into a scene of chaos and destruction when it became one of Hamas' initial targets during their incursion into Israel on October 7.
Also read: Gaza war: Video of alleged assassination attempt on Palestinian President Mahmoud Abbas surfaces (WATCH)
The drone footage offers a chilling glimpse into the extent of damage and destruction caused by this brutal act of violence. It reveals a harrowing sight - hundreds of scorched and damaged cars that were forcibly moved by the Israeli forces in the wake of the attack.
The Nova music festival, known for its lively atmosphere and vibrant performances, quickly turned into a scene of tragedy as Hamas terrorists infiltrated the area, leaving a trail of destruction in their wake. This event, which had once been a symbol of unity and artistic expression, became a stark reminder of the ongoing tensions between Israel and Hamas.
The attack on the festival was part of a broader incursion by Hamas, which resulted in numerous casualties and a wave of panic among the festival-goers. This ruthless act claimed the lives of 260 innocent civilians and left many others traumatized.
Also read: Yet another bone-chilling video of October 7 massacre by Hamas emerges (WATCH)
The release of this drone footage is a somber reminder of the ongoing conflict and the impact it has on the lives of civilians. It serves as evidence of the devastation caused by such acts of violence and the importance of finding a path to peace and stability in the region.
Earlier, another drone footage from the Nova music festival massacre had gone viral on November 6.
As Israel grapples with the aftermath of this tragedy, the world watches with hope for a resolution to the longstanding conflict and an end to the cycle of violence that has plagued the region for years. The footage serves as a testament to the need for a peaceful solution to the Israeli-Palestinian conflict, as innocent lives continue to be caught in the crossfire.
Last Updated Nov 8, 2023, 2:12 PM IST