A community shattered by Hamas: Watch before and after footage of Kibbutz Be'eri where over 130 people died
Israel Defence Forces (IDF) on Sunday shared a video capturing before and after footage of Kibbutz Be'eri shattered by Hamas on October 7, killing over 130 people.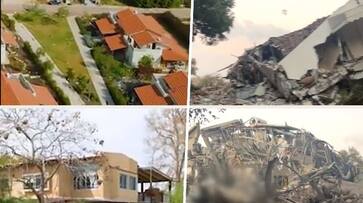 Nestled in the serene landscape of southern Israel, Kibbutz Be'eri once stood as a haven for families, a place to build homes, and a close-knit community where safety and peace were cherished. But the tranquility of this idyllic settlement was forever disrupted on a fateful day - October 7, when Hamas terrorists carried out a brutal invasion that left a deep scar on the community.
Also read: Inside Hamas' tunnels in Gaza: Viral videos reveal underground challenge for Israeli forces (WATCH)
The horrifying events of that day saw the loss of over 130 innocent lives, leaving the residents of Kibbutz Be'eri not only mourning but grappling with the harsh reality that their haven was shattered by an act of terrorism.
Kibbutz Be'eri, like many such communities in Israel, was a symbol of resilience, where people from diverse backgrounds came together to cultivate the land and raise their families. It was a place where children played freely, and neighbours shared a strong sense of kinship.
However, the attack orchestrated by Hamas not only took the lives of 130 individuals but also shook the very foundations of this community. The peaceful existence they had cherished for years was replaced by a haunting memory of that tragic day.
Also read: Israel's counter-terrorism operation: 27 Hamas terrorists arrested, printing house sealed, weapons seized
The aftermath of such an act of terror is immeasurable. Families were torn apart, friends and loved ones lost forever, and the community left in a state of shock and grief. The wounds, both physical and emotional, run deep, and the scars will undoubtedly endure for generations.
The attack on Kibbutz Be'eri serves as a stark reminder of the relentless threat posed by terrorist organisations like Hamas. These organisations target not only military or governmental installations but also peaceful communities, destroying lives and undermining the very essence of coexistence and peace.
Last Updated Oct 22, 2023, 6:00 PM IST