Viral video: Man dressed as beggar brings sack full of coins to buy iPhone 15 (WATCH)
In the video, one of the creators of 'Experiment King' disguised himself as a beggar and ventured into a mobile showroom in Jodhpur. The video is an attempt to raise questions about societal perceptions, empathy, and the affordability of premium gadgets.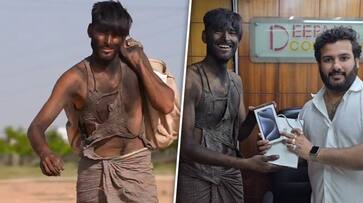 In India, expensive iPhones are typically regarded as a status symbol, and ordinary people cannot afford to spend that much money on a phone. A sociological experiment was recently done by the Instagram account 'Experiment King' to explore how retailers would respond if a beggar went up to buy an iPhone. 
A guy disguised as a beggar is shown in the video touring cellphone stores in Jodhpur with a sack full of cash to purchase an iPhone 15. While several mobile businesses refused to let him in due to his ripped clothing, many others refused to accept the cash as payment.
Also Read | Apple to announce new affordable iPads on October 17?
However, one store eventually consented to accept his one-of-a-kind payment method. The guy is then seen emptying the sack onto the floor and delivering it to the merchant and his employees. Later in the video, the merchants are seen counting the monies. The beggar then examines and poses with the iPhone Pro Max. He also snaps a photo with the business owner, who appears astonished.
The video has received over 34 million views and several likes and comments since it was uploaded. While some consumers enjoyed the trial, others were moved by the personnel of the mobile store. 
Also Read | Samsung Galaxy A05s to launch on October 18 in India; Check out expected specifications, price
Notably, Apple's much-anticipated iPhone 15 series went on sale in India on September 22. Long queues were spotted outside Apple's retail stores in Delhi and Mumbai ahead of the launch.
On September 12, Apple revealed the iPhone 15 series (iPhone 15, iPhone 15 Plus, iPhone 15 Pro, and iPhone 15 Pro Max), as well as the Apple Watch Series 9 and Watch Ultra 2 during their "Wonderlust" event.
Also Read | Apple Diwali sale 2023: MASSIVE discounts on iPhones, iPads, MacBooks & Apple AirPods; Check details
Last Updated Oct 16, 2023, 1:11 PM IST