FA Cup 2022-23: Wolves fans blame Liverpool for VAR blunder, but was it really at fault?
FA Cup 2022-23: Wolverhampton Wanderers settled for a 2-2 draw against Liverpool on Saturday, while the former's winning goal was ruled offside. However, the lack of enough VAR angles angered the visiting fans, who blamed the hosts.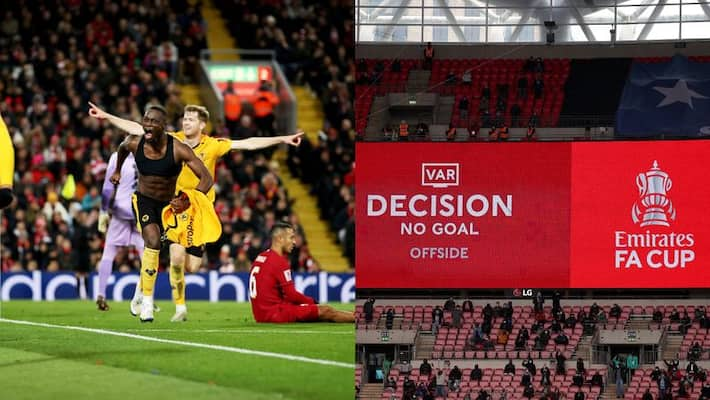 The 2022-23 FA Cup Round 3 encounter between Liverpool and Wolverhampton Wanderers ended in a 2-2 draw, as the two teams would engage in a replay next week to determine who would progress to the next round. However, a possible win for the visitors was supposedly robbed. At least, that's what the Wolves fans feel. In the 81st minute, Toti Gomes appeared to have scored the winner from a resulting corner from Matheus Nunes. However, the scorer was adjudged offside, as the goal was ruled out. Furthermore, the Video Assitant Referee (VAR) took the call based on the television broadcast angle, while other angles were unavailable at the venue.
Consequently, the Wolves fans lashed out at officials, while some even accused The Reds of bribing the VAR officials. While multiple clips of it were shared on social media, one such video we came across is the one below, where on pausing at 11 seconds, it is pretty much evident that Gomes was possibly offside when Nunes came up with his second cross before Hwang Hee-chan's assist allowed Gomes to tap the ball in.
ALSO READ: FA CUP 2022-23 - JURGEN KLOPP DEFENDS ALISSON POST HOWLER AS LIVERPOOL DRAWS WOLVERHAMPTON
Speaking on the issue, Wolverhampton head coach Julen Lopetegui articulated, "The offside that we had – we have seen it, the offside doesn't exist, I'm sorry. It's impossible. Someone has told him [the referee] it's offside, but we've seen the images. It doesn't exist. The decision is wrong. I make mistakes every day, and sometimes they do too. It is a pity because I'm sorry, it's not offside."
Meanwhile, Liverpool boss Jurgen Klopp enunciated the same, "I'm not sure about their third goal. We have one picture where it may look offside. But I can understand why they are angry about it. We don't want the VAR to have one angle."
Last Updated Jan 8, 2023, 2:11 PM IST