Advantage Arsenal? Fans debate after Man United's Casemiro suspended for crunch Premier League clash
Casemiro picked up his fifth booking of the season during Manchester United's clash against Crystal Palace, forcing him to miss out on their crucial clash against Premier League leaders Arsenal on Sunday.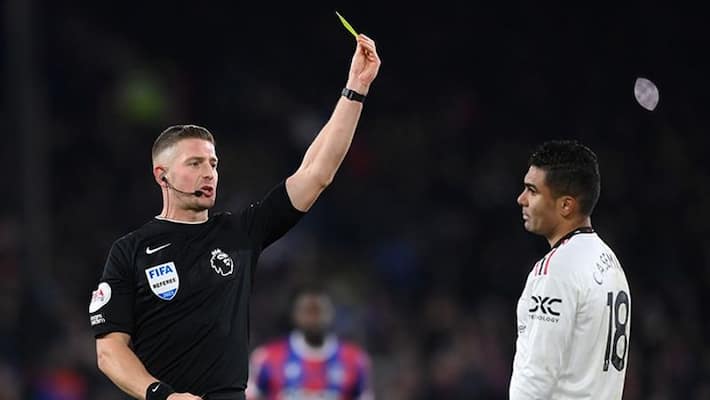 Since he arrived in the Premier League, Manchester United's Casemiro has played a crucial role in the Red Devil's campaign and is one of the best defensive midfielders in the English top flight. However, the Brazilian is set to miss the team's trip to north London on Sunday when they face table toppers Arsenal after picking up his fifth booking of the season for a foul on Wilfried Zaha during United's 1-1 draw against Crystal Palace at Selhurst Park on Wednesday.
Following Casemiro's suspension, Man United boss Erik ten Hag reminded Arsenal that his team could beat the Gunners without the former Real Madrid icon in September. United travel to the Emirates in third place, eight points behind Arsenal, after Michael Olise's spectacular free-kick rescued a draw for Palace in stoppage time.
Also read: Mourinho fans laud 'Special One' after his 2020 prediction about Arsenal's future under Arteta goes viral
Ten Hag has instructed his players that it is up to them to make up for Casemiro's absence because United is still the only team to have defeated Arsenal in the Premier League this year. "Last time we beat Arsenal without Casemiro," said the United boss.
"Casemiro is obviously a really important player for us and he is one of the reasons that we are in the position that we are now. We have a squad and we have to fill that gap and make a proper plan and the squad has to fill it. As a team, we already showed how to beat Arsenal," the Dutchman added.
Meanwhile, football pundit Jamie Redknapp claimed the loss of Casemiro in the crucial match against Arsenal was a huge blow for the Red Devils. "From Man Utd's point of view, it couldn't have gone any worse," Redknapp said post-match on Sky Sports.
"We spoke before the game about Casemiro. Don't get booked. Don't get into any confrontations. It was so important because they need him on Sunday. When he got booked in the 80 minute, it was like the steam was completely taken out of Manchester United. It affected them so much. They knew that there most important player, in that defensive role, was missing," he added.
Redknapp added, "It was a moment of madness. You could see Casemiro was furious with Bruno Fernandes, who jumped out of a (previous) challenge. That's why he ends up one-on-one with Zaha and he gets booked. It could have been a red card. It's a scandalous challenge. It's reckless."
"I could just see Mikel Arteta when that happened dancing around his living room because he is so important to Man Utd. They have got no-one who can do what he does in the team," the former Liverpool and Tottenham star stated.
Redknapp emphasised that the absence of Casemiro has greatly benefited Arsenal, forcing United to make difficult choices in advance of the match to compete with the midfield trio of Granit Xhaka, Martin Odegaard, and Thomas Partey of the Gunners.
"I said before the game if he was to be booked and to miss that game. He is so important. They're going to have to bring in Fred or Scott McTominay. If you look Arsenal at the moment with Odegaard, Xhaka and Partey that midfield is functioning so well," he added.
"I can only really see it benefitting Arsenal in such a huge way. They've got so much confidence right now, which makes them red hot favourites, he's such an important player not in the Premier League. Certain teams function so well and that is what he offers them. He senses danger and they are going to miss him so much for what he brings to the team. For Arsenal it's exactly what they wanted to see today and it's big news for them," Redknapp noted.
Also read: Supporters slam fan attack on Arsenal goalie Ramsdale; Tottenham's 'cry baby' Richarlison trolled
Meanwhile, Arsenal and Man United fans are engaged in a war of words on Twitter, with Mikel Arteta's team supporters stating that with or without Casemiro, they would register a win at the Emirates Stadium. United fans, however, believe that they have the firepower to defeat the table toppers for the second time in the season.
"Honestly I'm happy. United have this way of always managing to upset us. Even in the pits they still managed to do something against us. So this run of form they're on is worrisome. Lemme just wait and see," noted one Arsenal fan.
Another Arsenal supporter added, "Partey was injured when we faced them. It's fair game."
A United fan remarked, "Today they are celebrating Casemiro's absence, on Sunday after the game they will be complaining about the Ref and VAR."
Another fan of Erik ten Hag's team added, "I'm expecting a full Partey domination in the middle now. Arsenal fans gassing about him being better than Casemiro. Well, now Arsenal should technically walk all over us, right? All of the pressure for this game is on Arsenal, not United."
Here's a look at some of the other reactions ahead of the Arsenal vs Man United clash on Sunday:
Last Updated Jan 19, 2023, 3:17 PM IST