'I love Messi because...': Inter Miami co-owner Beckham explains what makes PSG star special
David Beckham, former Manchester United legend and co-owner of MLS side Inter Miami, explains what makes Lionel Messi special and reveals why he loves Argentina's World Cup-winning captain the most in world football today.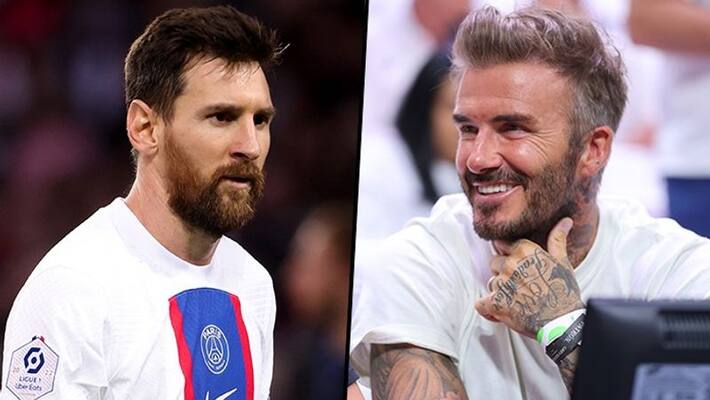 Legendary forward Lionel Messi is one of the greatest players to have graced the sport of football, and there's no denying that the Argentina superstar has won the hearts of millions worldwide throughout his illustrious career. The Paris Saint-Germain (PSG) star, who will turn 36 in June, remains a current favourite of many football enthusiasts, including legends of the sport, including former Manchester United and England icon David Beckham.
Also read: Revealed: What Messi thinks about Argentina teammate and Chelsea's new signing Enzo Fernandez
In an interview with ESPN Argentina, Beckham explained why he loves watching Messi and what makes Argentina's World Cup-winning captain special. The former England captain also noted the qualities on the pitch, but there's also an aspect away from the field that draws him to the ex-Barcelona legend.
"It has to be Messi," Beckham said. "I love Leo for many different reasons. I love him because he's a great father. I love him because he's a great personality, a character. He's a great person."
"But I think what everybody loves about him is the way he plays the game. He plays the game with passion. He plays the game just free the way he plays. And I think this past World Cup again. I think the way he played for his team, for his country and to win that World Cup was an incredible moment for him. And I love watching players like him," Beckham added.
Also read: Zaire-Emery cherishes historic PSG goal celebration with Messi; fans credit G.O.A.T effect
Beckham co-owns MLS side Inter Miami and was rumoured to be interested in signing Messi from PSG when his contract ends this June. However, reports state that the seven-time Ballon d'Or winner wants to continue at Parc des Princes with a contract extension in the pipeline.
Also read: Is PSG pushing Lionel Messi for contract talks?
Last Updated Feb 2, 2023, 7:09 PM IST