Yadgiri: Stepmother poisons 5-month-old child over property issue
In Yadgiri district, a stepmother poisoned her 5-month-old stepchild to secure property rights for her own children. The child tragically died after consuming the poisoned milk, leading to legal charges against the stepmother.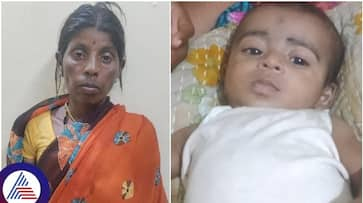 In a shocking incident in Yadgiri district, a stepmother poisoned a 5-month-old child to secure property rights for her children. The incident took place in Babalada village, Wadagera taluk.
The victim, a 5-month-old child named Sangeeta, was killed by her stepmother, Devamma Chettigeri, the woman who mixed poison into the child's milk. The child's mother, Sridevi Chettigeri, was feeding her at home when Devamma offered to breastfeed the child.

Rape-accused escapes Davangere jail by jumping 40-foot wall, arrested again
Tragically, after drinking the poisoned milk, the child started crying and started to vomit. The mother thought the child might not have digested the milk and tried to wipe the milk off the child's mouth. However, when the situation worsened, they tried to take her to the hospital. Unfortunately, the child died on the way.
Two wives:
Sridevi, his first wife of 11 years, and Devamma, whom he married seven years ago due to Sridevi's inability to have children. Sridevi had left Siddappa's house and returned to her native home in Chamanalli after his second marriage.
However, Sridevi's parents later helped reconcile the couple, and she returned to Siddappa's house three years ago. This led to both wives living together in the same household.

Bengaluru terror attack suspect T Naseer got Rs 10 lakh in foreign funding, preached Jihad in jail: CCB
As the fights between Sridevi and Devamma grew, with Devamma reportedly treated Sridevi poorly. The birth of Sridevi's child five months ago intensified their property dispute. Devamma believed that only the children of the first wife would inherit the property, which made her carry out such a heinous crime. 
To secure her children's future, Devamma poisoned the child's milk, resulting in the child's tragic death. The incident led to a police case being filed at Wadagera police station in Yadgiri district, and Devamma now faces charges related to the child's murder.
Last Updated Sep 1, 2023, 6:15 PM IST