Namma metro launches 5% discount on Mobile QR group tickets for seamless group travel; read this
The Bengaluru Metro Rail Corporation Limited introduces a 5% discount on Mobile QR Group Tickets for groups of 6 passengers starting November 16. This innovation, available on various platforms, streamlines ticketing, allowing easy entry and exit through QR-coded tickets. Although priced 10% above tokens, the 5% group discount promotes group travel, aiming to enhance commuter convenience and reduce wait times.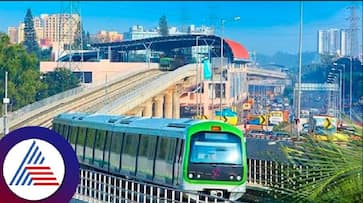 In a move set to revolutionize the commuting experience for metro passengers, the Bengaluru Metro Rail Corporation Limited (BMRCL) has introduced a convenient and cost-effective solution for group travellers. The latest announcement brings a 5% discount on mobile QR group tickets, for the people travelling in the group of 6 members.
Starting November 16, passengers can escape long queues at ticket counters, as the BMRCL launched Mobile QR Group Tickets. This innovative offering allows a group of six individuals to secure their tickets at once, entailing a 5% discount on the token price. These mobile QR tickets, available through popular platforms like Metro's mobile app, Paytm, Whatsapp, and Yatra, offer a seamless experience.

Karnataka DyCM DK Shivakumar announces extension of Namma metro until Bidadi
With the introduction of Mobile QR Group Tickets, passengers will receive a QR-coded ticket uniquely encrypted with individual passenger numbers. This technological advancement facilitates easy entry and exit at the metro stations, eliminating the need for queuing up at ticket counters to buy tokens. The tickets can be scanned at the entry and exit fare collection gates.

Namma Metro Yellow line update: MP Tejasvi Surya visits Kolkata factory to ensure timely delivery of coaches
The benefits of this new system extend beyond convenience. Passengers now have the flexibility to acquire their mobile QR tickets in advance too, whether from the comfort of their homes or offices, aligning with their schedules and travel plans.

However, 5% discount for group bookings mitigates the additional cost, offering an overall saving for the travellers. This initiative by the BMRCL aims to encourage group travel and reduce waiting times.
Last Updated Nov 11, 2023, 9:45 AM IST