Karnataka: 'Religion and politics should be kept separate,' says Jagadguru Fakir Dingaleshwar Swamiji
Jagadguru Fakir Dingaleswara Mahaswamy emphasized the separation of politics and religion while promoting human values, culture, and interfaith understanding during a religious event at Fakireshwar Temple fair in Shirola village, Karnataka. Fakireshwar's teachings of equality and unity continue to inspire harmony in society.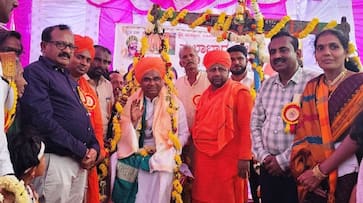 The younger Jagadguru Fakir Dingaleswara Mahaswamy of Maharaja Niranjan from Bhavaikyata Mahasansthanpeeth in Shirahatti delivered a significant message during a religious function at the Fakireshwar Temple fair in Karnataka's Shirola village at Vijayapur district. He stressed the importance of keeping politics and religion separate, underlining that while politics should be like a religion, it should not interfere with religious matters.
The Jagadguru highlighted the need to embrace human values, culture, heritage, and the principle of truth in our lives. He emphasized the importance of harmony and interfaith understanding in society.

Actor Kishore sparks debate on 'Sanatana Dharma' amid controversy over 'Hindu' term usage
The gathering also discussed the historical significance of Fakireshwar, who spread the message of truth and equality through miracles. Fakireshwar's divine influence had a profound impact on several kings and leaders of his time, including Adil Shahi of Vijayapur, Nizam of Hyderabad, Akbar Badshah of Delhi, Nawabs of Savanur, and Kings of Mysuru.
Fakireshwar's teachings transcended caste conflicts and advocated for the equality of all human beings, promoting friendship, love, and devotion among people. His legacy lives on through his miracles, guiding those who walk with devotion and inspiring unity and harmony.
"The caste system of Hindus and Muslims, full of ignorance and selfishness, has been uprooted. It has created a sense of friendship by proclaiming that everyone is human," said Fakir Dingaleswara Mahaswami, the younger Jagadguru of Maharaja Niranjan of Bhavaikyata Mahasansthan Peeth of Shirahatti.
MLA C.S. Nad Gowda (Appaji) praised the role of Fakireshwar Mutt and encouraged its development under his guidance. He suggested organizing an ordination program for Channaveera Deva of Kuntoji Sansthan Hiremath, involving various ethnic groups from the constituency.
"If it weren't for the martyrs, saints, and mahatmas during the earlier Mughal era, we wouldn't have been able to save our religions today by turning into fanatics," said C.S. Nadagowda (Appaji), MLA.

Karnataka minister Madhu Bangarappa urges BJP to prioritize real issues over 'India vs Bharat' debate
He emphasized the importance of integrating the principles and qualities of saints, sharanas, and yogis into our lives. He stressed that practising these ideals would lead to a more meaningful and harmonious existence.
The event was attended by important religious personalities, including Channaveera Devaru of Kuntoji Sansthan Hiremath, Shantaveera Shivacharya of Itagi Bhukailasa Hiremath, Vedamurthy Basavaprabhu Hiremath, MB Navadagi, Prabhu Gowda Desai, Shakuntala Chandalinga Hanragalla, Sidda Lingaya Kalyana Math, Sharanu Sajjana, Srikanta Chalavadi, Sadu Math, and many others.
Last Updated Sep 12, 2023, 2:38 PM IST