Bengaluru phone theft spree: Stay alert when using your phone in public
Pedestrians in Jayanagar, Bengaluru, are cautioned about mobile phone snatchers on bikes. In another incident, swift action led to the arrest of a thief who stole gold jewelry from a passenger on the Netravati Express train, with part of the stolen items recovered from the suspect.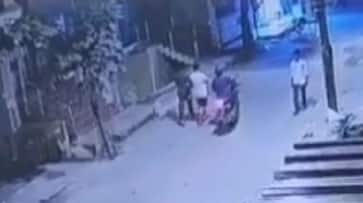 Pedestrians walking while using their mobile phones are being cautioned to stay vigilant as a duo on a bike has been snatching mobile phones from unsuspecting victims. The incident unfolded near the sub-register office in Jayanagar when two individuals walking with their mobile phones were approached by the snatchers on a bike. In a swift move, the culprits grabbed the mobile phones and fled the scene. The incident occurred around 10:30 p.m., and the victims promptly reported the matter to the Jayanagar police station.
Swift Arrest in Gold Jewelry Theft on Netravati Express
A swift response led to the arrest of a thief who stole gold jewellery worth lakhs from a passenger on the Netravati Express train. The incident occurred on Wednesday when Kalyani Balakrishnan, travelling from Chakerala to Mumbai, had her bag snatched as the train was passing near Mangalore's Thokur railway station at 10:10 pm.

Bengaluru: New BMTC bus shelter stolen near Vidhana Soudha, investigation underway

The stolen bag contained 127 grams of gold jewellery, a mobile phone, a handbag, an SBI card, an Aadhaar card, a PAN card, and glasses, with a total value of Rs 6,70,000. Kalyani immediately reported the theft to the railway TTE officials.

Karnataka: Tamil Nadu Woman arrested at Kollegala for misusing Shakti scheme
TTE Chandrakanta Shet promptly informed Srikanth, who was on duty at Udupi railway station, about the incident. At 11:55 am, Srikanth apprehended a suspicious individual, Sunny Malhotra, at Udupi Railway Platform and handed him over to Railway Police AASI Sudhir Shetty.

During the arrest, 93.17 grams of gold jewellery, Rs 3,700, and Rs 4,67,620 in cash, including an ATM card, were recovered from Sunny Malhotra. It is suspected that the remaining stolen gold ornaments may be in the possession of another accomplice. A case has been registered at the Manipal Police Station in connection with the theft.
Last Updated Oct 7, 2023, 3:40 PM IST