Bengaluru auto driver stops at red signal, earns passenger's praise
A Bengaluru commuter praised an auto driver on the Namma Yatri app for obeying a red signal and providing a pleasant experience, in contrast to those who jumped the signal. The post garnered over 12.5k interactions, with users celebrating kindness and exemplary service. This highlights the importance of recognizing professionalism and adherence to traffic rules among Bengaluru's auto drivers.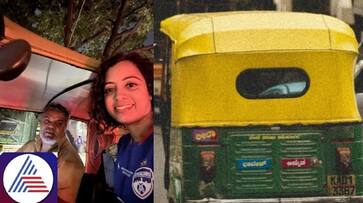 Bengaluru auto drivers often face criticism for their high fares and sometimes unfriendly behaviour towards passengers, with complaints about fare discrepancies not uncommon. However, it's important to acknowledge that there are many auto drivers in Bengaluru who provide exceptional service, exhibit politeness, and most importantly - do not jump a signal!
Recently, a commuter shared her heartwarming experience with the Namma Yatri app in Bengaluru, where she expressed her gratitude towards an auto driver who chose to obey a red signal, setting a commendable example when others around him chose to jump the signal.

'Love is like...': Bengaluru auto displaying quirky message amid busy streets captivates the internet
The commuter, Anusha Stephen (@AnushaStephen), took to Platform X to share her positive encounter. She stated, "Booked a rickshaw using @nammayatri for today's @bengalurufc match. The driver was very good. As we approached the signal, it turned red, and he stopped while others in line with us jumped the signal. No unnecessary honking too. All in all, Happy Travel 💙." Anusha's post resonated with many, quickly reaching more than 12.5k accounts, prompting an outpouring of positive responses in the comments section.
Users shared their enthusiasm for the Namma Yatri app and the exemplary auto driver, with Dr Ranjan highlighting the power of kindness. He stated, "Kindness. That's all it takes to be happy & bring smiles to hundreds of faces…"

Bengaluru auto driver's inspiring story to pursue higher education after 38 years will make you smile
Another user shared his own experience of trying to book an auto through the Namma Yatri app, narrating how eight drivers cancelled before the ninth one came to the rescue after an hour of persistence. 

Many other users chimed in to express their admiration for the auto driver, emphasizing the need for such positive experiences to be acknowledged and appreciated. These instances serve as a reminder that amid any criticism, there are shining examples of professionalism, courtesy, and adherence to traffic rules among Bengaluru's auto drivers.
Last Updated Oct 26, 2023, 2:07 PM IST